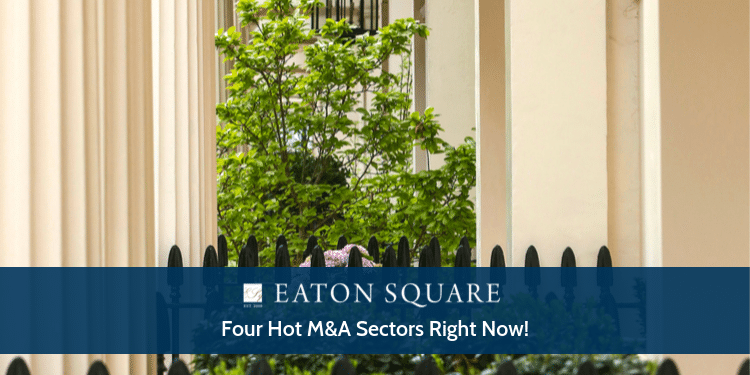 One of the keys to selling a company is timing the sale to coincide with what buyers want to buy.
Based on Eaton Square's international reach and focus on the mid-market sectors, here are four M&A markets that are 'hotter' than normal right now.
1. IT Services & Management Consulting
Driven by client demand for digital transformation and new packaged enabled change, IT Services and consulting firms are in demand.
Key areas in IT include: Cyber Security, AI, Machine Learning, Analytics, Industrial Internet of Things and Large Enterprise SaaS Applications: Workday, Salesforce & ServiceNow.
We are also seeing demand for SAP and Oracle cloud platform transformation services.
Importantly, Private Equity's recent ability to gain banking support for IT Services acquisitions has also added a new player into any acquisition mix. This provides sellers with the ability to partially exit and remain exposed to the continued growth of their business with a new capitalized partner.
2. Engineering Services
Global consolidation of engineering sector continues. All larger players are looking for acquisitions across North America, Asia Pacific and Europe.
Key areas of interest include infrastructure (particularly with public sector clients), resources (as mining and oil & gas recover) and companies with innovative digital technology.
North American PE interested in backing roll-ups across State borders. Strong opportunity for cross border acquisitions especially between US, Canada, Australia and Western Europe. South East Asian engineering companies are especially in demand!
3. Software / SAAS
Two types of software companies in great demand. Fast-growing SAAS firms are attractive to investors. Especially those where customers 'can pay on a credit card' and demonstrate they have 'cracked the code' of favourable unit economics based on cost of customer acquisition, lifetime customer value profitable and retention rates. Multiples can be very attractive.
Secondly, significant opportunity for 'boring' long-term stable software > $10m revenue. Does not need to be high growth or very profitable, just predictable revenue. PE attracted to stable customer base and revenues. 100% cash upfront deals.
4. Digital Agencies
Acquisitions in the digital marketing services sector is changing with buyers cherry picking niche and difficult to replicate capabilities including user experience, big data and analytics.
This is an important time for smaller sellers to act before larger players shift their focus to building in-house capabilities organically. Key IP and Tools based businesses will continue to be highly attractive.
Interestingly, large global consumer brands are also acquiring specialized marketing agencies to gain a distinctive competitive advantage.
If you are interested in discussing how to sell your firm and would be interested in understanding the market, please feel free to contact us for a free one-hour discussion about the market:
---

Patricia Glovsky
Principal
Patricia E. Glovsky is a technology investment banker with more than 30 years of corporate finance investment banking (M&A and capital raises (private placements, debt and IPOs)) experience.  Through her career she worked primarily on technology M&A and private placement transactions and developed a unique focus on "Visual Computing technologies across industries".
[email protected]
Ph: +1 415 775 3300
Eaton Square a cross-border M&A and capital services firm focused on services, technology and growth companies in the US, Canada, Australia, Asia and Europe.