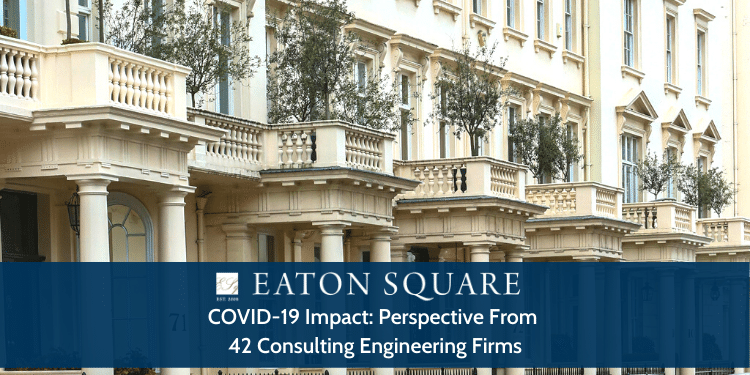 Over the last couple of months Roger Collins-Woolcock, Mark Goodwin and Warren Riddell hosted ten web-meetings for senior leaders and owners of 42 Australian engineering, environmental and planning firms. We curated each invitation-only session to blend firms from different sectors and locations – to get a whole of industry perspective.

The discussions centred on:
The COVID journey to date and how business confidence has swung about
How the market (clients and peers) has responded to date
Impact on culture (values, leadership, behaviours) – how may this affect the future
How operations were impacted and the effectiveness of responses
Impact on planning, strategy, growth aspirations and ownership succession
As a general observation, the Australian engineering sector performed strongly in the first six months of the pandemic. This may be due to a combination of strong contract backlogs and improved utilisation due to lockdown. The firms we spoke with reported strong performance in the key areas of infrastructure, housing, mining, with many reporting above budget performance.
Before dipping into some of the insights and nuances that we can share, what became very clear was the dynamic and fluid nature of the crisis – and how it is not limited to the epidemic. Our first meeting was in late July and the last was in late September. Even over a two-month period, we saw issues and priorities shift from the first meetings to the last; with border controls, the crisis in Victoria, and geopolitical issues related to the USA and relations with PRC becoming more prominent.
Some key points of feedback we'd like to share include:
Markets
The benefit of a balanced portfolio of private and public sector clients.  If you don't have public sector clients now, good luck in trying to enter that market – join the queue.
Another balanced portfolio point – local clients vs non-local (i.e. interstate or international). Many engineering firms have been in denial about the true cost of servicing distant clients.
Culture, relationships and staff
One consequence of staff working in physical isolation is disconnection. This poses a risk of fracturing the cultural bonds and ties that form the company. Predatory competitors and head-hunters understand this – it's an opportunity for them to poach your best people.
Many firms are introducing real and virtual ways to preserve internal relationships and connectivity. Working remotely requires intentional effort to hold their team together.
Generally, utilisation has risen, which has been reflected in increased profitability. But there is an awareness that persistent remote working will have a negative impact on long-term client relationships. And relationships are the enduring glue between a service provider and its client. Alternative strategies are needed.
Remote working may be fine for the introverted and experienced professional. But not for the trainee or new graduate. This led onto a further point…
How to value people in a virtual working environment?
Operations
Initially, many firms considered the permanent downsizing of office space to reflect staff preferences and reduce cost. But over the last few months, many have changed their mind. Staff attitudes to isolation have changed and the negative impact on culture is becoming clearer to leadership. Some firms are considering increasing their office footprint to give staff more individual space and when allowed, more collective space for group work.
Generally, tech support for remote working has been efficient and effective.
Strategy and succession
COVID-19 and the fallout from it is seen as yet another risk that leaders and managers will need to address for the foreseeable future. Having had to face increasing globalised competitive forces and the commoditisation of formerly high-value services; the current crisis is a further disruption that must be addressed. Can it be turned into an opportunity?
Planning and budgeting will require firms to remain flexible and nimble.
It is probable that more cash will have to be retained in the business, to provide a cushion, as opposed to being distributed to shareholders.
Succession and exit plans will need to be reviewed.
Specialist firms are still fielding approaches from acquisitive groups – but generally, their focus is on preserving their business performance rather than being distracted in these uncertain times.
To close, we found many common themes across each of the industry segments. Despite the heady uncertainty in March and April, most leaders and their teams adapted to the lockdown and changed working arrangements quickly and effectively. Clients were understanding and a mutually supportive environment developed.
The first six months of 2020 has been commercially strong for many in the industry – coming off a strong backlog or order book at the end of 2019. However, the concern expressed in our meetings is for 2021 – the impact of derailed immigration, higher general unemployment and the lag effect of the new economic stimulus. The consensus was that the crisis would weed out underperforming firms unless they restructure. The most obvious way is through local mergers of similar businesses to create scale and reduce cost.
What impressed us all from the ten meetings with these leaders was the quality of their thinking and their responsiveness to this crisis.
Based on the great success of these sessions in Asia-Pacific, we are now inviting mid-market engineering firms in the US, Canada and Europe to also join us for a one-hour discussion where we can share some of the insights we have found. If you're interested, you can join an upcoming session here.
---

Roger Collins-Woolcock
Principal
Roger is a Principal of Eaton Square and focusses on mergers and acquisitions particularly in the professional services of engineering, survey, planning, landscape architecture and quantity surveying. Majority of his 30-year career with ASX listed firm Cardno where he was the General Manager of the 2000 person Australia and New Zealand region.
Email: [email protected] | Mobile: +61 412 778 807

Mark Goodwin
Managing Principal
Mark is a Principal of Eaton Square based in Perth and is focused on M&A and debt and equity raising. He brings over 15 years extensive M&A experience having led a large number of successful transactions in Australia, Asia, UK and the US.
Email: [email protected] | Mobile: +61 422 005 439