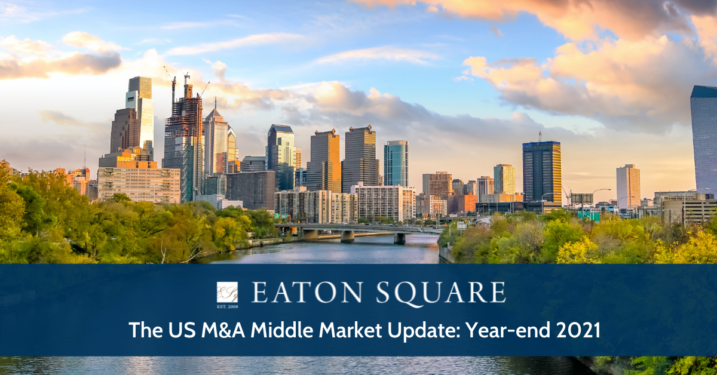 Michael Mufson, our Principal from Philadelphia, reports the deal activity in the US M&A Middle Market for the year-end of 2021. Read the highlights below.
US M&A Activity Increased 40% By End 2021
For the year ending 12/31/2021, total US M&A activity experienced a 40% increase in total dollar deal
value for reported transactions and the total number of deals reported were up 30% YoY.
The largest increase reported were transactions with EV above $1 billion which experienced a 67% increase
in deal count in 2021

Middle market US M&A activity (transactions below $250mm in EV) saw a 22% increase in reported deal
count in 2021, with associated transactional dollar value increasing 42% YoY.
All US M&A valuations below $1 billion in EV for 2021 averaged 8.88x EBITDA vs. 8.97x for in 2020.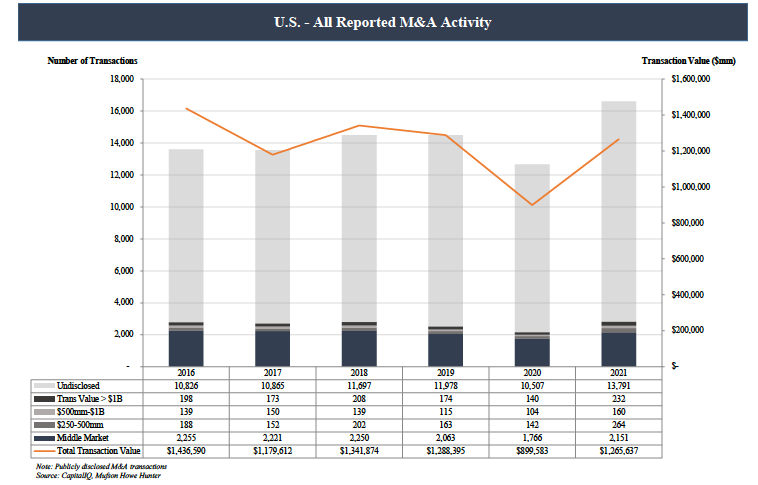 The M&A Marketplace Remains Highly Liquid
Private Equity Sponsor valuations for deals below $1 billion averaged 13.0x in 2021 vs. 13.9x in 2020.
Private Equity Sponsor valuations for deals below $1 billion saw an increase in Q4 2021 to 13.8x, up 0.8x
from Q3 2021.
Total Leverage in PE Sponsor transactions averaged 5.9x in 2021 down from 6.3x in 2020.
Equity contributions witnessed an increasing percentage throughout 2021. In Q1, average equity
contribution was at 47% and by year end, it represented 58%.
The M&A marketplace remains highly liquid with well over $800 billion of dry powder in equity funds in
US PE Sponsors coupled with almost $2 trillion of cash on non-financial corporate balance sheets in the
US.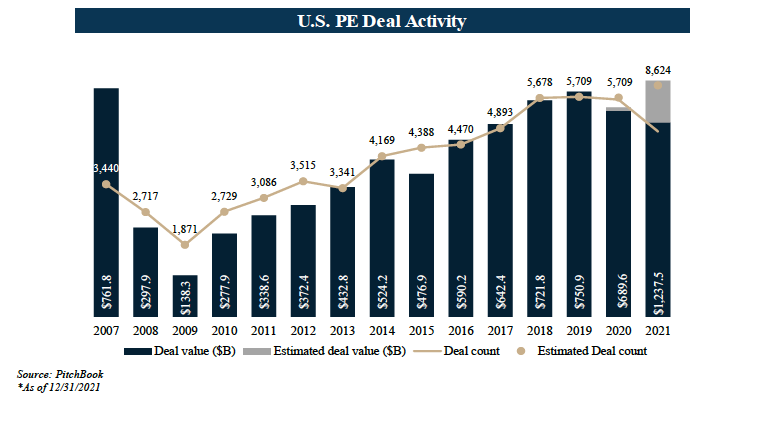 2022 Outlook: Strong Year for M&A
The middle markets are starting to see in greater frequency the larger family and close held-private
companies coming to market to as the liquidity event to the owners whose demographic of baby boomers
are coming to retirement age.
M&A Credit/Leverage statistics is provided by our New York partner, SPP Capital; You can find the latest Private Capital Market Report here.
2022 should be another strong year for M&A for no other reason than the sheer amount of liquidity
in the market.
The $800B plus dry powder available to PE sponsors, the $2 trillion in corporate cash
balances exacerbated with both commercial banks and non-regulated debt sources need to employ funds
thwart the many economic headwinds we are in store for the foreseeable future.
If you have questions or would like to speak to our M&A advisors, feel free to book a call here.
---

Michael Mufson
Managing Partner and Principal
Michael Mufson has almost 30 years experience as an investment banker to middle market companies. Prior to the founding of Mufson Howe Hunter in 2004, he served as the founder and head of equity capital markets for Commerce Bancorp (now TD Bank).