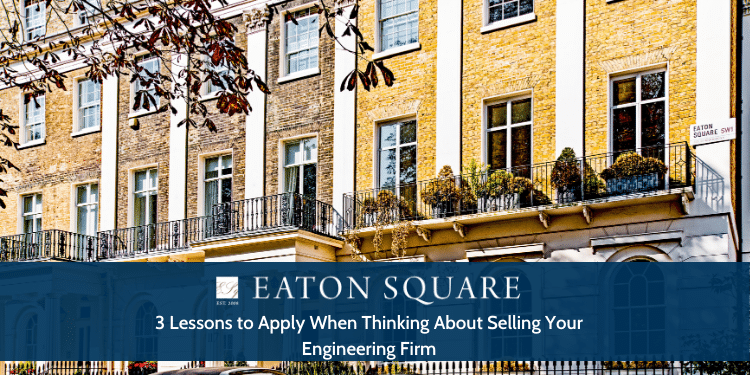 Eaton Square specialises in M&A in the Engineering and Consulting Sectors. We act for both the sellers and buyers of firms in the civil infrastructure, building engineering, project management, construction, oil and gas and mining engineering sectors.
While there are many factors that influence the success of a sale/acquisition, we believe that there are key lessons that can be applied to transactions to give the sellers the greatest chance of achieving their goals, as follows:
1. The engineering sector is global, and it is important to undertake a broad search for acquirers
From the large US and European groups looking to strengthen their global footprint to smaller boutique engineers looking to leverage their expertise in new geographies, the majority of buyers for quality engineering companies do not come from the local market. Whether your company is worth $3000 or $10m, acquirers will come from across the country and globally.
In part, this is driven by the acquirers' clients who themselves operate internationally and therefore need their service providers to have the same geographic footprint. It is also a function of today's communication technology that allows information sharing and cross-border teams.
Importantly for sellers, International buyers will often drive up the sale price due to increased competition and companies paying based on their strong listing multiples. International buyers will also often gain additional synergies from new clients and new jurisdictions, typically with less overlap between the businesses.
2. Understand the importance of a stable and motivated workforce to an acquirer
The core value of any people business is in its staff and the culture of the organisation. A company where the shareholders are active and intend to remain active post-deal is more valuable, particularly when there is a strong supporting management team.
Promoting within the business, so that management and client relationships are broadly held, de-risks the deal in the eyes of an acquirer. Also, not leaving the sale too late, so that the shareholders still have the appetite to grow the business inside the acquirer's organisation is critical.
It is also essential to have a plan in place to reduce and manage integration risk. This might include bringing key management on to the shareholder register before the sale or planning for retention bonuses to smooth the transition period. Understanding the motivation of staff, and ensuring that the transaction messaging highlights career benefits, is a vital step in sale preparation.
3. Work with the acquirer to develop a joint business plan
The value acquirers attribute to the business is based on their confidence in future earnings. A key way to increase confidence is to work with the buyers to develop a joint business plan early on in the sale process about how the business will perform post-acquisition.
Initially, this may involve conversations around integration but then developing into a discussion on a joint strategy including a granular opportunity by opportunity review.
We have found that this can be a useful way to identify synergies and therefore drive up the value of the deal. These conversations are also a way to build rapport between the two teams and also to provide the vendor with more comfort on their likely role post-sale.
Conclusion
We've seen many Engineering and Construction companies successfully turn to M&A to boost their profitability, increase their global reach, expand the services they offer, and reduce exposure to risk. If you're thinking about selling, we recommend preparing your firm for global buyers, maintaining a motivated workforce, and open to collaboration to achieve the best outcome for all parties.