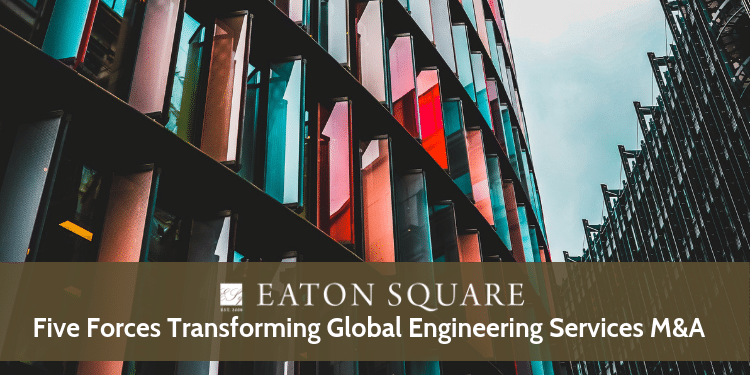 International indices indicate that from its high in mid-2014, the global engineering services sector dropped approximately a third of its value to a low in early 2016. The sector has now rebounded.
However, even with the market growing again, executives of major engineering companies across the globe see margins and traditional revenues being disrupted by five key forces which are changing their M&A strategies.
1. Competition from Management Consultants and Strategy Houses
Non-traditional competitors continue to expand their scope of technical advisory services. These companies are engaging early and influencing public and private sector project developers, the core client base of engineering services companies.
These new entrants are providing a more holistic view of projects, from early strategic options to operations, to understand both how the project will transform the clients' business and how the business needs to prepare itself for deployment of the new asset. These high value strategy and advisory services not only command premium rates, but also provide these advisors with influence over investment strategies and downstream engineering service procurement.
From an M&A perspective, Eaton Square is seeing that this is causing international engineering companies to look more widely for management consulting expertise more common in the strategy houses, with the aim of being involved in large projects earlier. Interestingly this means that the competition for these targets is also increasing.
2. Engineering Design Services becoming a Commodity
Without early stage input into project strategy and feasibility, traditional engineering services are becoming commoditised with engineers increasingly competing on price. This is leading firms to offshore design services in order to compete.
One response is for engineers to grow services that are inherently difficult to provide remotely, where customers value local contact and responsiveness, and where knowledge of local customs and business practice are central to delivering a successful outcome. These services may include high-level specialist concept design, program management and project development.
Eaton Square is seeing the commoditisation of some services impact M&A in two key ways. Firstly, global companies are looking for services that are difficult to offshore. Secondly, firms are increasingly interested in acquiring tools and businesses that can take up the commoditised roles such as software and digital robots.
3. Use of Smart Design Tools
Technology and the rapid deployment of 'smart' design tools are increasingly changing the way in which engineering design is delivered. These tools include 3D modelling, smart process and instrumentation diagrams (P&IDs) and smart electrical and instrumentation tools. This is having a significant impact on the profitability of engineering companies because this phase of engineering design has traditionally generated the majority of billable hours in a project, with reasonable margins and little risk.
The complicating factor for engineering companies with the emergence of these tools is that it isn't just a matter of these companies making 'an acquisition or two' to fill this revenue hole. Smart design companies have different business model, economics and cultures to most engineering companies presenting a challenge to the traditional labour-based engineering business model.
Engineering companies are very keen to find and acquire these companies and identifying them wherever they are based and utilising them internationally is central to the engineers M&A response.
4. Automating Core Processes
In the near future, technology will further disrupt the industry through automation and digitization of core processes within engineering companies, enabling, for example:
Smart 3D models which can create a complete "digital twin" of the physical asset
Models that overlay or leverage data captured via sensors, for example, air quality or noise readings on maps, and that use data for building management, people management and other purposes
Replacing "bricks and mortar" engineering companies with task sharing virtual companies.
In the same way as Google Maps has transformed the way we think of and use maps, new technology will enable us to use engineering data in ways that we are yet to understand.
Over the longer time horizon, artificial intelligence (AI) may make today's engineering tools and design guides defunct as companies use automation and digitization to build knowledge into AI algorithms.
All of these capabilities are uncommon or emerging in global engineering companies making them key acquisition targets. In additional, engineering firms also see the need for the technology infrastructure to manage and support the massive data files and storage required as an opportunity for new revenue streams.
5. Industries Served by the Engineering Sector are Changing
Technology will also redefine the sectors served by engineering companies. For example, autonomous cars will impact transport infrastructure, and urban design, and new battery storage and generation technology will impact power generation.
The electric power sector, as an example: a decade ago electric power flowed from generators to the consumer and current engineering and design tools and operating systems are based on this concept. Looking forward, the majority of generation will be behind the meter and the concept of one-way flow of power will be gone, requiring new engineering and operating concepts, models and tools.
As engineering firms seek to grow their share of new markets they will be targeting new capabilities and new industry expertise. A key challenge is that for some acquisitions, the global engineers are now competing with the giants from other sectors like technology, software, consulting and automotive for attractive deals.
These five disruptors are changing the engineering sector's model of charging solely for time spent on traditional technical design services. Engineering companies are already seeing the need to acquire people, businesses and technology in order to implement new services and a new way of thinking.
In addition to changing the types of firms engineers are acquiring, Eaton Square notes that the way they make these acquisitions and compete with new players is also breaking from traditional industry approaches. If you're interested in the engineering sector, feel free to contact me on [email protected] or +61 422 005 439.