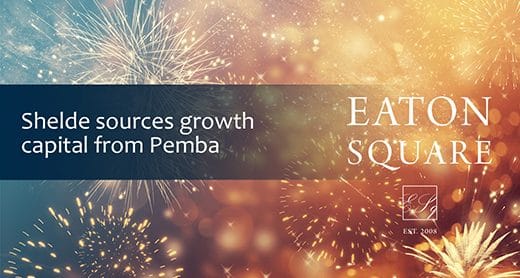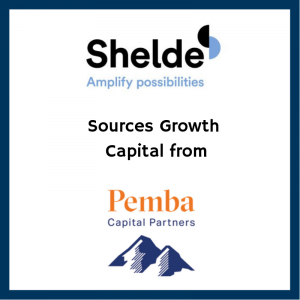 Eaton Square congratulates the shareholders of Shelde Pty Ltd (Shelde) on gaining growth investment from Pemba Capital Partners (Pemba).
Shelde was advised by Reece Adnams, Eaton Square Managing Principal in Melbourne and Karl Schutte Eaton Square Principal in Sydney.
Shelde Pty Ltd
Shelde is an integrated digital, security and data analytics consultancy. Shelde assists Australia's largest financial institutions, government agencies, telecommunications companies and similar large, complex organisations to protect data and source new digital opportunities through data insights.
Founded in Melbourne in 2010, Shelde has grown to over 100 staff operating from locations in Melbourne, Sydney and Canberra.
The growing demand for cyber security products and services in Australia and worldwide has enabled rapid growth in Shelde. In order to further accelerate this growth in a sustainable fashion, Shelde has accessed growth capital from Pemba.
Bruce Williams commented: "Central to our motivation for this transaction was identifying a partner that could help us grow more quickly than if we moved forward on our own".
"We see that this move will enable us to gain scale and reach to support our clients across their organisations and services lines. Integrating our data security and analytics services across new application development through to legacy systems is key to the protection customers are looking for, and this investment will help us grow and continue to expand our service offerings".
Pemba Capital Partners
Pemba is a leading investor in small and mid-sized private businesses in Australia and New Zealand. Since inception in 1998, they have completed over 100 transactions through partnering with the owners and managers of private businesses to help them accelerate growth.
Eaton Square
Eaton Square is an international cross-border M&A and capital service provider with operations in 15 offices with over 50 M&A and capital professionals across US, Canada, China & Hong Kong, Australia, UK, Switzerland, Singapore and Israel.
We assist growth-oriented, technology and services businesses to:
Capitalise on the value they have built in their business for shareholders
Undertake mergers and acquisitions
Access the capital they need to grow and expand
We are focused on four key opportunities:
Mergers and Acquisitions – buy side, sell side, mergers
Capital Raising – growth capital, bank debt, private equity, second round of capital raising
Public Markets – full or partial new market listing, reverse listing with capital raise
Transaction Readiness – market attractiveness, transaction preparations and organisation shaping, business and capital strategy, execution
Over the past 18 months, Eaton Square:
Reviewed >300 potential deals
Signed >50 client mandates
Closed 14 M&A and capital raise deals
Grew by 50% in terms of offices and Principals globally (to 15 and 50, respectively)
---
For more information, contact:

Karl Schutte
Principal
[email protected]
Ph: +61 418 238 417