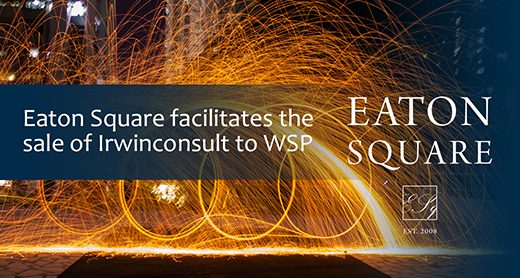 Irwinconsult & WSP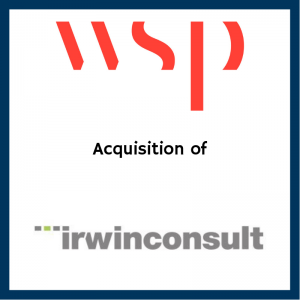 Eaton Square would like to congratulate the shareholders of Irwinconsult on the recent sale of their firm to WSPIrwinconsult was advised by Roger Collins-Woolcock, Eaton Square Principal (Brisbane), Mark Goodwin, Managing Principal (Perth) and Reece Adnams, CEO and Global Managing Principal.Irwinconsult is a leading structural, building services, civil, waste and traffic engineering consultancy with offices in Melbourne, Bendigo and Darwin. Over its 65 year history, it has worked on many iconic buildings in Melbourne including the State Library of Victoria, Royal Children's Hospital, the Shrine of Remembrance and the University of Melbourne School of Design. The firm provided specialist engineering services for the Bendigo Hospital and Geelong Library and Heritage Centre. In Darwin since 1964, Irwinconsult has worked on many significant buildings including the Palmerston Regional Hospital and Soho Apartments.
The sale to WSP will help Irwinconsult expand its services into other major centres across Australia and fast track its current expansion into the United States where it currently has three building projects underway. In doing so, it will create greater opportunities for its 200+ employees.
"We see this as a continuation of the global consolidation of the engineering services sector. Global companies like WSP are keen to attract specialized IP based businesses such as Irwinconsult, and Irwinconsult will benefit from WSP's global reach and balance sheet for larger projects" noted Roger Collins-Woolcock from Eaton Square.
"Cross-border transactions are the norm in the engineering services sector now, which is why it has been important for us to grow our offices in Canada, the US, London, Asia and Australia" noted Reece Adnams, CEO at Eaton Square.
WSP is a global management and consultancy services business focused on the built and natural environment. It is headquartered in Montreal, Canada and is one of the largest consultancies In the world with over 48,000 staff.
Eaton Square
Eaton Square is an international cross-border M&A and capital service provider with operations in 15 offices with over 50 M&A and capital professionals across US, Canada, China & Hong Kong, Australia, UK, Switzerland, Singapore and Israel.
We assist growth-oriented, technology and services businesses to:
Capitalise on the value they have built in their business for shareholders
Undertake mergers and acquisitions
Access the capital they need to grow and expand
We are focused on four key opportunities:
Mergers and Acquisitions – buy side, sell side, mergers
Capital Raising – growth capital, bank debt, private equity, second round of capital raising
Public Markets – full or partial new market listing, reverse listing with capital raise
Transaction Readiness – market attractiveness, transaction preparations and organisation shaping, business and capital strategy, execution
---

Roger Collins-Woolcock
Principal
Roger is a Principal of Eaton Square and focusses on mergers and acquisitions particularly in the professional services of engineering, survey, planning, landscape architecture and quantity surveying. Roger worked for the majority of his 30-year career with ASX listed firm Cardno where he was the General Manager of the 2000 person Australia and New Zealand region.
[email protected]
Ph: +61 412 778 807