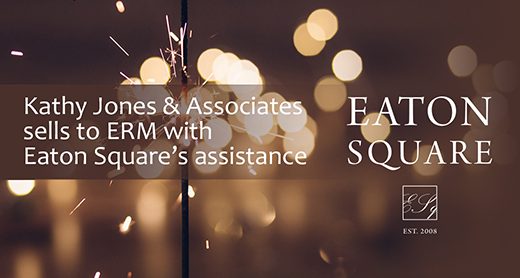 Deal Closed!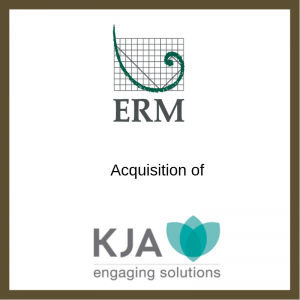 Eaton Square would like to congratulate the shareholders of Kathy Jones and Associates on the recent sale of their firm to ERM.
Kathy Jones & Associates (KJA) was advised by Warren Riddell, Eaton Square Principal in Sydney.
Kathy Jones and Associates is a leading stakeholder engagement and communication consultancy in Australia has been acquired by ERM. KJA has led stakeholder engagement and communications for multi-billion dollar infrastructure and urban regeneration projects, such as the new Sydney Metro, the Northern Beaches Hospital, and the Barangaroo Precinct on Sydney Harbour over the past two decades.
The merger with ERM will help KJA reach new locations, expand growth opportunities and access the resources sector, all of which beneficial to their 70+ employees in Sydney and Melbourne.
The acquisition of KJA follows global corporate sustainability consultancy giant ERM's 2017 acquisition of Australian sustainability consultancy Pacific Environment, which also has a background in major infrastructure and urban growth.
Eaton Square
Eaton Square is an international cross-border M&A and capital service provider with operations in 15 offices with over 50 M&A and capital professionals across US, Canada, China & Hong Kong, Australia, UK, Switzerland, Singapore and Israel.
We assist growth-oriented, technology and services businesses to:
Capitalise on the value they have built in their business for shareholders
Undertake mergers and acquisitions
Access the capital they need to grow and expand
We are focused on four key opportunities:
Mergers and Acquisitions – buy side, sell side, mergers
Capital Raising – growth capital, bank debt, private equity, second round of capital raising
Public Markets – full or partial new market listing, reverse listing with capital raise
Transaction Readiness – market attractiveness, transaction preparations and organisation shaping, business and capital strategy, execution
Over the past 18 months, Eaton Square:
Reviewed >300 potential deals
Signed >50 client mandates
Closed 12 M&A and capital raise deals (expect 18 by end 2018)
Grew by 50% in terms of offices and Principals globally (to 15 and 50, respectively)
---
For more information, contact: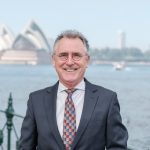 Warren Riddell
Principal
[email protected]
Ph: +61 414 445 170
Warren brings over 30 years of expertise in business strategy and transaction management developed client side, advisor side and as a financier, in the UK, US, Middle East and Asia Pacific.