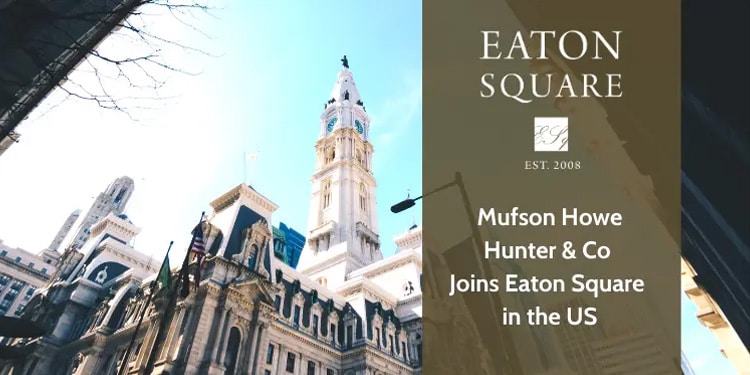 Eaton Square is proud to announce its continued growth in the United States with the addition of Mufson Howe Hunter & Co. LLC (MHH). MHH is a leading middle-market M&A and Capital advisory firm based in Philadelphia with both national and international relationships.
MHH, founded in 2004, focuses on merger & acquisition and growth-capital private placement activities for middle-market companies. They are an industry-focused investment banking firm covering: business services, consumer, industrials and technology & services. The firm maintains significant relationships with both strategic companies and private equity sponsors who are interested in the firm's coverage sectors.
Michael Mufson, who leads the firm's investment banking professionals, has extensive transactional experience having completed hundreds of merger & acquisition transactions, private placements, recapitalizations, IPOs, follow-on financings, and complex advisory assignments. During his 30+ years as a highly-experienced investment banker serving middle-market companies, Michael has served as a director of public and private companies as well as a general partner in venture capital and private equity funds.
With this alignment, Eaton Square has grown to 24 senior M&A specialists in the US and over 75 globally. The addition of MHH to Eaton Square provides our clients with wider access to opportunities in both the Eastern US and access to Principals with deep sector expertise in business services, consumer, industrials, distribution, and technology services. This is an important milestone for Eaton Square as we continue to grow our team and further reinforce our capabilities in the US.
"I am delighted to welcome Michael and the MHH team to Eaton Square. They have extensive experience in helping middle-market clients in the technology, consumer, business services and manufacturing arenas. We think this capability further strengthens our ability to help clients looking for M&A expertise in the US and for our clients in Asia-Pacific and Europe to grow in the US market," Reece Adnams, Eaton Square CEO.

"The MHH team looks forward to building a long-term, mutually-rewarding, collaborative relationship with the Eaton Square team as we collectively benefit from our reciprocal strengths and relationships for the service of our clients," Michael Mufson, MHH Managing Partner.
MHH's senior management team joining Michael are:
Michael oversees MHH's Manufacturing & Industrial Products/Services activities. He brings 25+ years of both sell-side & buy-side transaction experience in M&A, capital markets, equity research and investing plus 10+ years of increasing responsibilities in high-tech engineering, manufacturing, marketing & finance positions.
Anthony directs our efforts in the consumer space and is active in sell-side and recapitalization transactions. He has completed transactions for numerous companies including family businesses and raising growth capital in both the public and private markets
Brandon Eck oversees MHH's Technology & Services practice that serves growth-oriented, rapidly scalable businesses that leverage proprietary and enabling technologies. Brandon has developed a diverse transactional background, completing over 70 transactions, including sell- and buy-side mergers and acquisitions; private equity and debt capital raises; public equity offerings; acquisition financings; and, fairness opinions.
Andrew primarily advises Technology companies, with a particular focus on Technology Enabled Business Services, IT Services, Cloud Services, Software Services, Healthcare Services and Healthcare IT.
Jonathan primarily advises sell-side and recapitalization transactions in our four industry verticals: business services, consumer products & e-commerce service, industrial & manufacturing and technology services.  Additionally, Jonathan directs the firm's debt placement practice to support our clients growing needs in the credit markets.
Eaton Square is a cross-border M&A and capital services firm with 22 offices across the US, Canada, China & Hong Kong, Australia, New Zealand, UK, Spain, Switzerland, Singapore and Malaysia.
If you're interested to speak with our Mid-Atlantic team, please contact the following individuals: