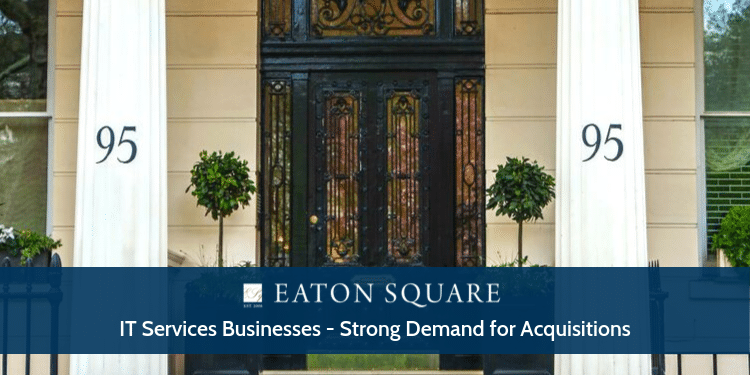 Booming demand for 'Digital Transformation' services is driving the acquisition of IT Services firms capable of helping clients change their systems and processes through digital-centric & agile approaches.
Key Reasons Driving Demand for IT Services
The desire for acquisitions is also being driven by C-level interest in emerging technologies such as Artificial Intelligence and Blockchain while CIO's are taking advantage of the cloud to reallocate IT budgets back into development and supporting service innovation.
This buoyant market is increasing profitability and margins, driving higher multiples as international buyers compete for attractive firms.
In addition to interest from more North American and European buyers, strong growth in the Chinese and South-East Asian markets has broadened the pool of acquirers.
2019 is shaping up to be an attractive time to test the market, particularly for businesses founded in the early 2000 post dot-com period, who have achieved scale and growth.
Earn-outs are common in the sector as a means of bridging the valuation gap between buyers and sellers. Earn-outs can run for two to three years making it particularly salient to sell when client demand is strong.
Buy-side Deals in IT Services
Recently, we have been contacted by PE Funds and Corporates who are actively looking for acquisition targets in the IT sector. In our October 2019 Buy-side Deal Book, we've listed a couple of opportunities for business sellers and we can confirm that IT still remains a highly attractive industry. You may review a full list of opportunities in our Deal Book page.
If you are interested in what this demand for IT Services acquisitions could mean for your shareholders, we would be happy to talk to you.
---

Patricia Glovsky
Principal
Patricia E. Glovsky is a technology investment banker with more than 30 years of corporate finance investment banking (M&A and capital raises (private placements, debt and IPOs)) experience.  Through her career she worked primarily on technology M&A and private placement transactions and developed a unique focus on "Visual Computing technologies across industries".
[email protected]
Ph: +1 415 775 3300
Eaton Square a cross-border M&A and capital services firm focused on services, technology and growth companies in the US, Canada, Australia, Asia and Europe.