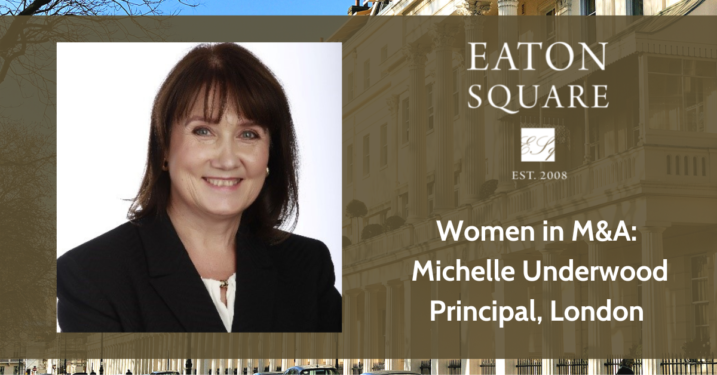 We continue our celebration of International Women's Day. We believe that supporting women's rights and gender equality should not be a one-time thing. Our goal is to be more proactive in building awareness of the everyday challenges women face specifically in M&A.  This week, we put a spotlight on our colleague in the UK, Michelle Underwood.
1. Please briefly explain your background and how you came to work in investment banking.
I initially took an apprenticeship with the UK government stockbroker Mullens.  After two years, I moved to the London Stock Exchange floor as a blue button with Charles Stanley and Co.  In June 1987 and after the Big Bang in the City of London, I joined Montague Investment Management, followed by 12 years at Morgan Stanley, the investment bank, as Executive Director.
After Morgan Stanley, I joined a USA technology company before moving to M&A Advisory in London in 2012.  M&A Advisory specialises in the global marketing communications and digital sectors, and we advise on business sales acquisitions and mergers.
2. From your experience, what are some of the specific challenges women face working in our industry?
Historically, there has been a culture of long hours in the investment banking industry, which is not always conducive to family life.  This can often be overcome through changes in approach and technology.  Currently, I'm proud to say that our efficient transaction processes and digital systems allow for a more balanced work and family life.  I also take pride that most of our processes have been designed by women.
3. What are some key steps companies could take to make investment banking more attractive to women?
Much work has already been done in this area, but a few are:
Back-to-work incentives for women wanting to return to work after children
Help with childcare
Job shares
Flexible hours
Adoption of efficient transaction processes
Recruitment processes targeted towards women
4. What do women bring to deal-making that is different to men?
In my experience, I can say that the following skills have helped us successfully land clients, find buyers, close deals and even manage deals that fall apart:
The softer personal skill set to smooth over any potential road bumps
An alternative way of looking at the potential challenges encountered in deal-making
A different approach to transaction processes by using technology to increase efficiencies and remove the long-hours culture
5. What would you like to see change in our industry for women in the coming years?
I think some change is happening already like a more flexible working environment which was tried and tested during the COVID era. More employers are now open to remote working which brings more opportunities especially for women with families. What I'd like to see are more women role models in the sector. We have a few but women are still under represented. Finally, we need to have active recruitment policies to encourage female entrants into M&A.
---
Learn more about Michelle Underwood
Michelle Underwood is a Principal at Eaton Square London.
She is a founder and director of M&A Advisory, a former Morgan Stanley Executive Director and independent consultant. Michelle has over 20 years' experience in global financial markets.