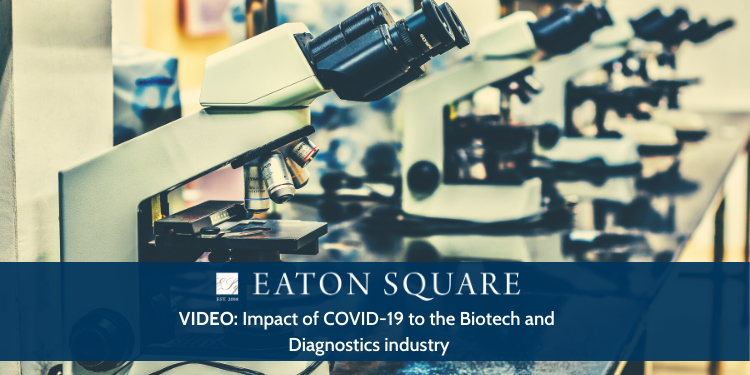 The biotech and diagnostics industry has evolved significantly in the past 3 months with the impact of COVID. To get a better perspective of the state of this sector, I spoke with our biotech experts Caroline Popper, M.D. in the US and Bob Atwill in Australia. You can read the full transcript or watch the video below.
Caroline, how are you seeing the diagnostics industry being impacted by COVID-19 at the moment?
COVID-19 has been a boon to the diagnostic industry. I can't remember a time when there was so much interest in diagnostics. Diagnostics of all types from molecular, to lateral flow assays, to specimen collection, etc.
I think this renewed interest has been fantastic for innovators in the space as well as for the large companies that acquire those innovators. I think for us there's a whole lot of activity in new technology, in new reagents, in the diagnostic information that they generate and also in non-test diagnostics, like digital tools.
So, I think there's a real interest in information that makes healthcare more efficient, that's diagnostics and I think that represents a lot of opportunities for a lot of innovators.
Bob, what changes are you seeing in the biotech sector at this time?
It's undoubted that COVID-19 is a major effect in pharma, biotech, cellular medicines and devices. I have been in all of them for 30 years and there's been a lot of changes that have been going on.
I suppose there are two areas. The first one is companies that are positively affected by COVID-19. There's a lot going on in antivirals and also in AI looking at repurposing of compounds into antivirals. And there are also those that had a very negative effect with COVID-19. In such areas, as trials being on hold, in distribution issues and reduced revenues and access to capital being very scarce.
But a lot of those will come back in time and so it's about helping those that are affected by COVID but also capitalizing on the opportunities that some companies undoubtedly have in this environment with the pandemic and what goes on after the pandemic.
Caroline, the diagnostics industry is also being impacted by broader technology and societal changes, how are you seeing these trends affecting the sector?
I think there are big changes on both ends of the spectrum. At one end of the spectrum there are changes in central labs where there's increasingly sophisticated instrumentation that generates more and more information like spatial profiling in tissue.
And then on the other end of the spectrum where diagnostics are becoming easier and easier to use in order to support the trend towards home health, home diagnostics, the increased interest of consumers in generating information and performing their own diagnostics.
I think we're seeing a lot of companies grow up at both ends of that spectrum because there's a general recognition that information is what's really important to making healthcare delivery more efficient. I also think we're seeing something that some refer to as diagnostic literacy – the increased knowledge that patients have or consumers have about their own health care and their interest in controlling that information more.
To some extent, the US may be ahead of where other parts of the world where consumers are more interested in having that information and in fact demanding it in some circumstances.
If you are interested to talk to our Biotech team, you may book a call here.