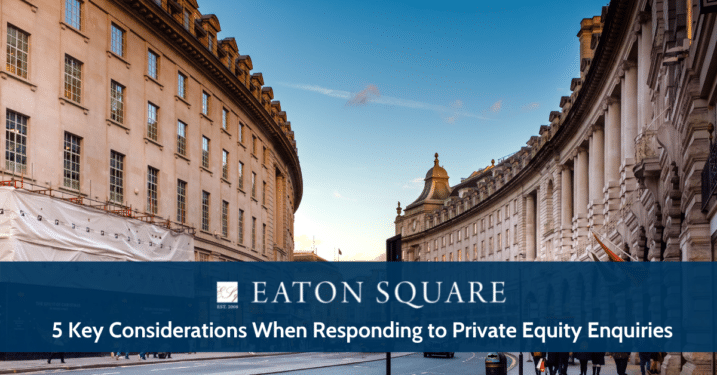 We have been contacted by a number of mid-market companies that are interested in selling their firm after being contacted by Private Equity enquiries.
Business owners, particularly first-time sellers who receive unsolicited interest in acquiring their business, can find themselves wondering how to respond and gain some measure of control over an unfamiliar process.
5 Key Considerations When Responding To Private Equity Enquiries
As a starter, we have found five key considerations help business owners in this situation to identify their best next steps, including:
1. Is the business in good shape for a transaction?
In addressing this question we are really looking at does the business have the information and records that buyers need available and will the current status of the business stand up to due diligence review. This includes having tax up to date, financial accounts ready, normalisations prepared and thought through. Also is the business well-structured or are their issues needed to be fixed up in the near-term that a buyer would otherwise use as leverage to reduce the price.
2. Is the timing right?
M&A is a fashion industry with the value of businesses rising and falling through cycles according to buyers' interest. Sellers can do significantly better if they go to market when their business is in demand. Typically, if a PE company contacts your client they can assume that many other buyers will also be interested in buying their firms. Similarly, it is always better to be selling when the business is growing and has good visibility of forward sales. We have come across many businesses in cyclical industries where the owners were thinking about a sale but left things too long and found that once the sector slowed, the interest in acquisitions evaporates. Best to sell when people want to buy.
3. Is the party who has approached us, the best 'new owner' to take the business forward?
It takes time, effort and good people to build a great business. Most of the business builders we work with share a sense of stewardship and in addition to a personal pay-day payoff, they will want to see the business move forward and provide their staff with security and a great future. So if the interested party doesn't seem like a good future steward of the business; then who is, and why aren't we working out how to sell to them? Eaton Square specifically grew internationally to bring global buyers to Australian businesses because they typically pay more and they give sellers more options.
4. Are we being offered fair value?
Getting the 'right' price and deal structure for your business requires both knowledge of comparable transactions and having options. In reality, it is unlikely that a single offer from one buyer will provide the best sale price and deal structure and so we always recommend going to the market. There are so many different buyers and differing options on how to structure a deal it is important for clients to test the market widely.
5. How do we create a competition?
The most important aspect of a sale is creating an international competition between buyers. This improves the seller's chances of getting a better commercial deal and finding the best cultural fir for their company. Adding international buyers is critical as they will usually pay more than local players and add to the competitive pressure during the sales process. It is also important for company owners approached by PE to add strategic buyers to their process as 'strategics' will often pay more than PE.
If you or your clients would like to talk with us about how to respond to a M&A enquiry, please let us know for a free consultation.