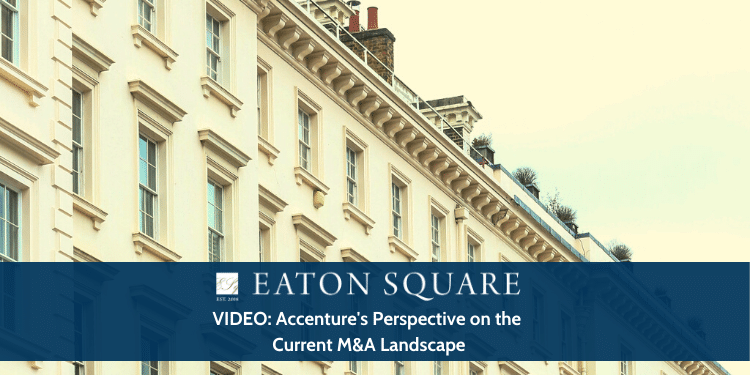 Many of our clients are keen to understand if there are still buyers in the market and how has COVID impacted the M&A process.
To help understand what this means for the business transformation and IT services sector, I interviewed Thomas Griffin, Managing Director for Mergers and Acquisitions at Accenture to get his perspective.
Watch the full video below:
How do you think COVID is impacting the M&A process?
It's impacting the process and I think it's going to be different for everyone but for us what we're finding is that for the last few months activity has been down. It's starting to pick back up, at least in our part of the world from the perspective of companies resetting and getting used to the new normal. They're thinking again about their M&A plans if they had put those on pause.
From a process standpoint, when we think about origination we're trying to stay away from companies that are servicing the highly impacted industry such as automotive or airlines, hospitality. We're looking for resiliency right now because of the added risk when we transact.
We're looking to introduce some creative deal structures to share some future risks that we're seeing in this economic environment. On the post merger integration front, we've actually integrated a few companies this year and we've had a heightened sense of awareness and attention to the well-being of the employees, just like we would with our existing employee base. It's a lot of change for a company of normal times, and it's even harder now.
Has this changed the way you review targeted firms before you engage and conduct due diligence?
The key for us when we're looking at companies and hoping to get to that due diligence process is understanding the what and the when of the impact of COVID. What I mean by that is how exposed are these companies to those industries I mentioned before. Beyond that are they able to pivot to other industries and how are they doing in general financially but also their people and other people adapting okay in this environment.
I've talked to a lot of companies that are actually doing quite well through COVID but it turns out they're living on a long tail of backlog. The question I have for these companies is how have you been able to keep up the sales process during lockdowns? Are you able to do that virtually? Are your sales continuing to help the growth or have the sales dropped off, and then in the next few months are we going to see a bit of a trough for them?
Looking ahead, do you have thoughts on which sectors or service lines will be of increased interest even after the impacts of COVID?
When I think about the demand for M&A for Accenture right now, I look into what is it that our customers really need most. In reality, this is where we've been focusing for a long time. I'm talking about being able to acquire skills that will accelerate our ability to support our customers. The types of firms we're looking for include:
Digital transformation journeys like the journey to the Cloud. Cloud skills are very important to us. Accenture specializes in this, but we see it as a growing area. We'll continue to look there.
Supply chains are getting a lot of attention. Do we have the supply chain consulting bandwidth to help all of our customers, or do we need to expand there?
Factory's output have been down. How do we make them more efficient? Accenture has a really good practice that supports digital manufacturing and operations. Do we need to grow that?
I think these are the hot areas for M&A for us right now.
How are you doing transactions when you're not able to physically meet people?
It's been tough right. It's been very different. Meeting people like we are right now has become the new normal for us as we continue to originate new opportunities and the question is can we close a deal without having ever physically met?
The leadership of this company and that question remains to be seen for us here locally. I think we're going to have to if we want to continue our M&A pursuits. Interestingly, I have spoken to the CEO of another company recently who said: "He would not proceed until we could actually have a sit-down meeting in a room" and so it's two different perspectives there.
If you own an IT Services business and would like to discuss your plans, we are offering a one-hour complimentary call with any of our experts. You may book a call here.
You can watch the other episodes of Eaton Square Perspectives here.