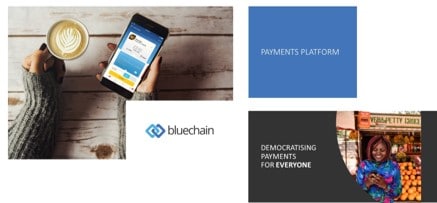 Summary
Founded in 2015 by a principal architect of Visa payWave and BPay.
Bluechain is a payments technology company that empowers industry platforms, payment companies, switches and card schemes with Request to Pay (R2P) that includes:
Advanced security features which uses digital certificates to provide secured and immutable payment messages.
A patent for securing transactions sent over public/open networks
such as public Wi-Fi, Bluetooth, internet or even by email.
Supporting multi-channel transactions across in-store/merchant,
online/e-commerce, remote/billing or person to person payments.
Touchless proximity merchant transactions using any device supporting Bluetooth (patent):- in-store POS / vending machines / parking meters / …
A unified user interface that can be embedded in the core platform,
as an overlay with powerful APIs that can integrate R2P into any company
Fast path to market for banks with a companion app that can lead to deeper
integration into their core banking system including their apps
Powerful e-invoice services that can be integrated into almost any
system including EDI gateways and accounting systems such as Xero.
Target Markets
Market focus is Business to Business (B2B) e-invoicing (Xero, Visa, Amex, PWC) in Australia, UK and other mature markets, and payment switches in developing economies (Ghana, Pakistan, Peru, Sri Lanka).
White-label annual license with transaction fees from:
R2P for domestic payment switches, eCommerce solution providers, banks completing against telco payments systems, tax collection for governments and card schemesB2B direct & referral partner sales with transaction fees.
Xero partners for bulk payments automation, accounting firms, marketplaces, payroll companies, banks and finance companies, rent collections, etc.

Financial Highlights
as at December Quarter 2020
BtoB: 18 commercial partners, 450 payers and 2,350 billers, generating transaction volumes above US$15m per month.
Country Payment Switches:  Agreement with Beyond Card Payments Limited (Ghana) for rights in certain regions in Africa and investment in Bluechain. The total value of the deal – US$6 million
Bluechain should move into profitability in 2021, with a low, subject to the Board's decisions on its growth trajectory, driven by projects in the UK, Europe and Asia.
Initial revenues following first country agreements in 2018 and rapidly expanding in 2019, comprising license fees from the national switches and transactional fees.
Circa US$16 million raised since 2015.
Location
Corporate HQ – London
Development team – Melbourne
Strategic Partnership
New market licences and strategic partners   US$10-$20m