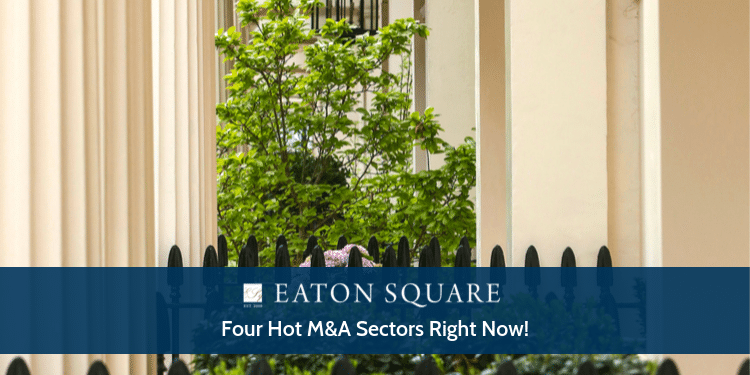 Posted on 4月 18, 2019 by
安德鲁•莱特
在 !trpst#/trp-gettext>
出售公司的关键之一是将销售时间与买家想要购买的产品相匹配。
基于伊顿咨询的国际影响力以及对中端市场的关注,我们发现目前在四个行业中,并购交易正在火热进行。
1. IT Services & Management Consulting
受客户对数字转型和新型外包服务需求的驱动,IT服务和咨询公司正大受追捧。
Key areas in IT include: Cyber Security, AI, Machine Learning, Analytics, Industrial Internet of Things and Large Enterprise SaaS Applications: Workday, Salesforce & ServiceNow.
我们也看到了对SAP和Oracle云平台转型服务的需求。
Importantly, 私人产权's recent ability to gain banking support for IT Services acquisitions has also added a new player into any acquisition mix. This provides sellers with the ability to partially exit and remain exposed to the continued growth of their business with a new capitalized partner.
工程服务
Global consolidation of engineering sector continues. All larger players are looking for acquisitions across North America, Asia Pacific and Europe.
Key areas of interest include infrastructure (particularly with public sector clients), resources (as mining and oil & gas recover) and companies with innovative digital technology.
北美的私募股权基金正有意支持跨境收购。在美国、加拿大、澳大利亚和西欧之间有很多跨境收购的绝佳机会;而东南亚的工程公司也大受欢迎!
软件/SAAS
Two types of software companies in great demand. Fast-growing SAAS firms are attractive to investors. Especially those where customers 'can pay on a credit card' and demonstrate they have 'cracked the code' of favourable unit economics based on cost of customer acquisition, lifetime customer value profitable and retention rates. Multiples can be very attractive.
Secondly, significant opportunity for 'boring' long-term stable software > $10m revenue. Does not need to be high growth or very profitable, just predictable revenue. PE attracted to stable customer base and revenues. 100% cash upfront deals.
数字营销
Acquisitions in the digital marketing services sector is changing with buyers cherry picking niche and difficult to replicate capabilities including user experience, big data and analytics.
在大型企业将重心转移到建立有机的内部能力之前,现在的交易市场对于规模较小的卖家来说是一个非常重要的时刻。那些基于关键知识产权和工具的业务将继续具有极大的吸引力。
有趣的是,大型全球消费​​品牌也正在收购专业营销机构,以获得独特的竞争优势。
If you are interested in discussing how to sell your firm and would be interested in understanding the market, please feel free to contact us for a free one-hour discussion about the market:
---

帕特里夏·格洛夫斯基(Patricia Glovsky)
总监
Patricia E. Glovsky is a technology investment banker with more than 30 years of corporate finance investment banking (M&A and capital raises (private placements, debt and IPOs)) experience.  Through her career she worked primarily on technology M&A and private placement transactions and developed a unique focus on "Visual Computing technologies across industries".
[email protected]
电话: +1 415 775 3300
Eaton Square a cross-border M&A and capital services firm focused on services, technology and growth companies in the US, Canada, Australia, Asia and Europe.