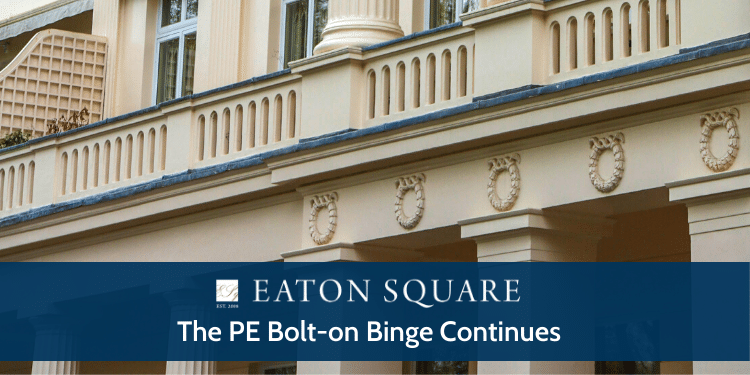 According to PitchBook's 3Q 2019 US PE Breakdown, add-ons to existing portfolio companies accounted for 68% of all private equity investments in the US, the highest annual rate on record. Some of the noteworthy firms embracing this strategy are Insight Partners with 30 add ons, HarbourVest Partners with 46 and Audax group with 56 add-ons.
Rising Popularity of PE Bolt-on
Despite uncertainties in the geopolitical landscape, the data suggests that M&A multiples remain firm and thus PE firms are paying full value for platform businesses (direct investments). Further, this implies that PE firms are heavily motivated to find bolt-on for their portfolio companies (indirect investments).  In most sectors, we observe a premium for scale in exit multiples hence the addition of multiple bolt-ons provides the PE fund with the opportunity to drive down their average entry EBITDA multiple.

Pericles, Prince of Tyre (Shakespeare)
Third Fisherman

Master, I
marvel how the fishes live in the sea.

First Fisherman

Why, as men do a-land; the great ones eat up the
little ones:
Strong M&A Activity Driven by PE Bolt-on
So despite the seeming geopolitical chaos in 2019,  with the substantial weight of dry powder raised by PE funds looking for a home, we see no evidence suggesting the slow down in M&A activity.
We foresee that the coming holiday period will result in an increased number of business owners brushing off their plans for an exit in 2020.
So trying to keep the grandstanding from certain unnamed politicians in perspective, we will take further solace from Shakespeare's Macbeth:
"Life's but a walking shadow, a poor player
That struts and frets his hour upon the stage
And then is heard no more: it is a tale
Told by an idiot, full of sound and fury,
Signifying nothing."
Over to you
Now is a good time to ride the wave of well-funded PE firms who are keen to add to their existing portfolios.  If you would like to discuss your 2020 growth strategies, please contact me or any of our senior Principals.