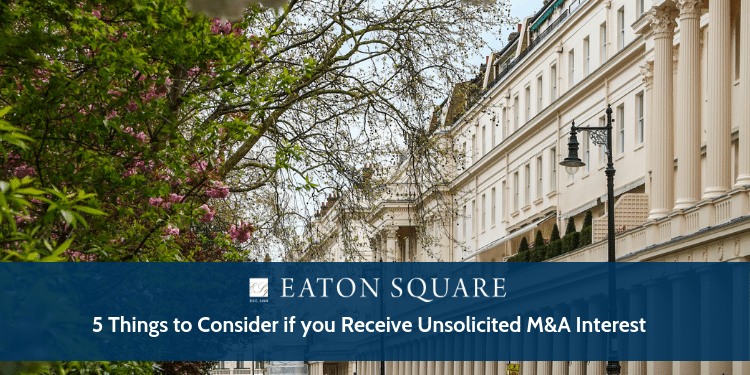 Posted on 7月 3, 2019 by
尼尔·伯恩
在 !trpst#/trp-gettext>
Business owners, particularly first-time sellers who receive unsolicited interest in acquiring their business can find themselves wondering how to respond and gain some measure of control over an unfamiliar process.
Based on our experience, there are five key considerations that we advise business owners in this situation to reflect on:
Five things to consider if there's M&A interest
Is the business in good shape for a transaction?

Is the business well-structured or are their issues needed to be fixed up in the near-term that a buyer would otherwise use as leverage to reduce the price.

Is the timing right?

It is always better to be selling when the business is growing and has good visibility of forward sales. We have come across many businesses in cyclical industries where the owners were thinking about a sale but left things too long and found that once the sector slowed, the interest in acquisitions evaporates.

Is the party who has approached us, the best 'new owner' to take the business forward?

It takes time, effort and good people to build a great business. Most of the business builders we work with share a sense of stewardship and in addition to a personal pay-day payoff, they will want to see the business move forward and provide their staff with security and a great future. So if the interested party doesn't seem like a good future steward of the business; then who is, and why aren't we working out how to sell to them?

Is this a full sale or an earn-out?

In situations where the on-going involvement of the current owners is important to the business then the deal is likely to involve a combination of upfront cash and deferred consideration. In the case of deferred consideration, it is critical to think through the implications of positive and negative scenarios to ensure that deal-structure doesn't provide hidden opportunities for the buyer to artificially diminish the deferred component.

Are we being offered fair value?


Getting the 'right' price and deal structure for your business requires both knowledge of comparable transactions and having options. In our experience, sellers do best when they create an international competitive dynamic between buyers.

If you are interested in discussing how to respond to any unsolicited offers for your business, or how to prepare your business for sale, please contact me at [email protected].

Eaton Square is a cross-border M&A and capital services firm focused on services, technology and growth companies in the US, Canada, Australia, Asia and Europe.