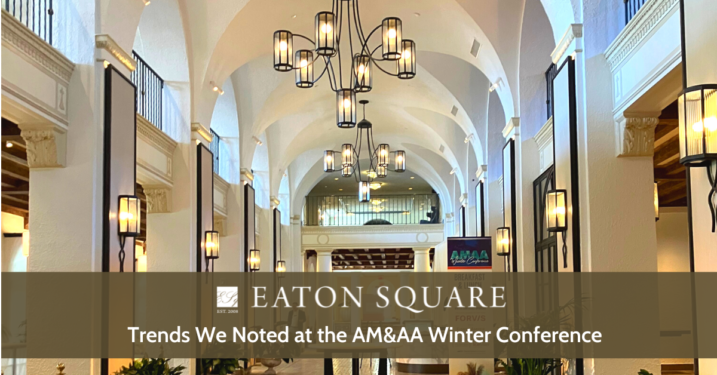 Posted on 2月 16, 2023 by
里斯 · 亚当斯
在 !trpst#/trp-gettext>
We're still on a high from attending the AM&AA Winter Conference last 8-9 February in sunny St. Petersburg, Florida. While we're grateful to be one of the exhibitors and registration sponsors, what I value the most are the conversations my team and had with colleagues and friends from the industry (in person!).
I also had the chance to participate in one of the general sessions about Leverage in the Middle Market. Below you'll find highlights from the talk.
Here are 3 key M&A insights I shared at the AM&AA Winter Conference:
1) More and more deals are becoming international now
As a cross-border M&A firm, we can attest that almost every deal is international now. Most of the clients that we work with have high profitability and staff are often stretched to deliver demand. One thing that has changed in the last 3-4 years is that the US has become much more important from an M&A perspective to the rest of the world. Mainly because China is less interesting now politically but also on the practical side of things. It has been more difficult to get money out of China to make acquisitions. So there's a big focus from APAC and EU companies to do deals with the US.
2) There's a threat of recession but the general sentiment outside the US is a positive one
While there's uncertainty in the market about recession, in reality, a business that wants to sell will likely hold off for a bit but will eventually still go to market. Based on our direct experience working with many founder-led businesses that survived COVID, they usually want to exit because their kids don't want to take over. Or sometimes, they've reached a point in their lives when they're tired and ready to let go of the business. Sellers might pause for 6 months but not 2 years. They will come back to market and deal with the reality that their valuation may have changed.
3) The highs and lows from 2021 to 2022 seem to be a normalization of deals, not a decline
From an international perspective, we saw a massive boom when COVID ended in 2021. The decline we saw last year appears to be a tapering of transactions. We're still seeing plenty of deals around the world. While debt is getting harder to access, there's still a lot of money floating around, so our projection is still optimistic.
Talking about sectors, there seems to be a freeze on deals in the discretionary consumer market. We see that strategics play a more vital role now. We generally see PEs willing to pay 10-30% more than what strategics are willing to pay. Looking at prices now vs 2019 (pre-COVID), it's pretty comparable. Prices were just too high and we think it's getting back to normal.
---
If you attended the conference but did not get a chance to meet, here's a brief background about us:
伊顿咨询 is an international network of mergers and acquisitions and capital services firms and professionals. We have 150+ senior M&A professionals and member firms across the US, Canada, Australia, New Zealand, UK, Spain, Japan, Singapore and Malaysia. We are focused on helping clients to sell their businesses or grow through acquisition.
If you would like to discuss this further, I'd welcome a brief 30-min call with you. Please book a call here.