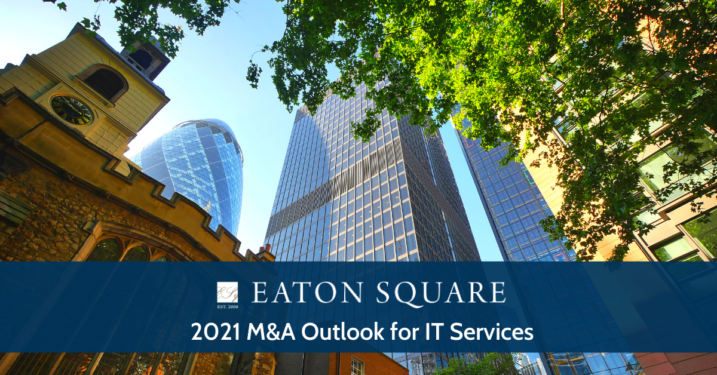 As we swing into 2021, things are looking pretty cheerful for the IT Services sector.
Government employment support programs helped the industry to retain staff and skills during a period of peak uncertainty; then suddenly it was game on helping customers with remote working, digital fulfilment and service automation.
We see a strong demand for acquisitions in 2021 across the entire IT services sector as investment capital from private equity, family offices and public markets continues to be attracted by the sector's long-term growth prospects.
People remain the major asset for most IT Services business and the constant need to drive scale, build capabilities whilst preserving margins shape the sectors M&A dynamics.
The IT Services Vortex:
At the bottom of the funnel: A constant flow of new entrant as small teams of skilled individuals can easily branch out by themselves;
In the middle: Ongoing need to build depth across 'hot' capabilities either product/vendor based or domain specific such as we are currently seeing in the cyber security area. Leveraging acquisitions for accelerated scale through cross-selling and up-sell — customers tend to stick with their suppliers post-acquisition. It makes perfect sense to acquire teams that bring existing customer relations, particularly if that helps the acquirer cost-effectively expand into new industry segments or geographies.
At the top: Buying for market share.
Three drivers of M&A in IT Services sector
Off the back of last year's gyrations, we see three reinforcing trends driving M&A in 2021:
Consolidation at the top
"IT Services"-as-a-Service
Channel Partner Aggregation
Consolidation at the Top
Jumping in our time machine back to early 2019, the Everest Group put out a list of the top global IT Outsourcers. Since then, all have made multiple acquisitions as the majors jostle for market share:
([#]number of acquisitions since March 2019)
埃森哲 [15]
TCS [3]
Cognizant [16]
Wipro [7]
HCL [7]
Capgemini [6]*
IBM [10]
Infosys [6]
DXC Technology Company [6]
NTT DATA [2]
* plus the acquisition of ASX:RXP pending
"IT-Services"-as-a-Service
The trend towards cloud computing has helped many mid-market IT Services business migrate towards recurring revenues based on long-term contracts or what we refer to as Managed Services Providers (MSP's). This is happening across Infrastructure services, IT support Services, with a lot of recent activity in the Cyber Security sector. Private Equity is very interested in the Managed Service Provider business model, and we are seeing many MSP's looking to acquire customers bases and capabilities to drive scale.
Channel Partner Consolidation
The names of a few high-profile enterprise SaaS products continue to be high on the wish list of large and mid-sized acquirers. Vendor partners in strong demand include Workday, SAP, SalesForce, ServiceNow. More generally, we are finding strong interest from local and international channel partners in acquiring similar business in adjacent market segments or new geographies for scale and market coverage.
---
Finding a strategic partner that 'gets it'
If you're not entirely sure where your company stands in this niche, we are happy to schedule a call with you to discuss. Our global team is comprised of senior M&A professionals across the US, Europe and Asia-Pacific. Each of us has extensive experience in the Professional Services and IT Services.