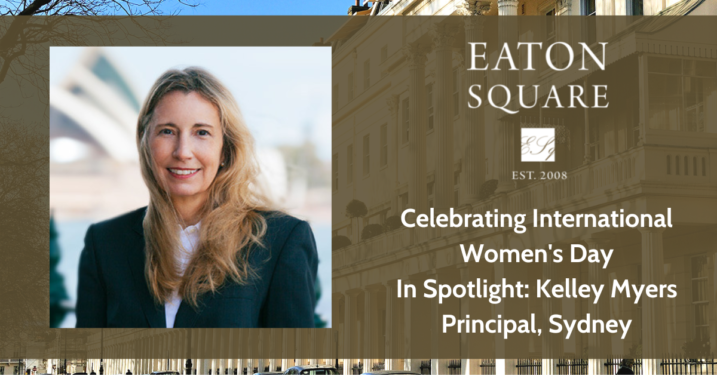 Posted on 3月 8, 2023 by
里斯 · 亚当斯
在 !trpst#/trp-gettext>
In celebration of International Women's Day, we're running a Women in M&A series featuring some of our esteemed female Principals from across the globe. In the world of investment banking, where women have historically been underrepresented, International Women's Day is a chance to celebrate the strides made towards gender diversity and to recognize the work that still needs to be done. For the whole month of March, we'll put a spotlight on our female dealmakers to shed light on their experience in the competitive world of investment banking starting off with Kelley Myers.
1. Please briefly explain your background and how you came to work in investment banking.
I pivoted into investment banking after having careers in science and education. At the time, I was committed to staying in London, U.K. after having lived and worked in the US and Switzerland. I was looking for a more challenging career, one that would use my numerical skills. Perhaps most importantly for timing, my eldest child had just started school which allowed me to aspire for a career path with upward mobility.
2. From your experience, what are some of the specific challenges women face working in our industry?
Many women who work at investment banks face significant challenges balancing work and family, in my view. Being the second breadwinner in a family can often mean a woman's time is commandeered by non-career urgencies –a partner's career or time demands, the needs of a family, childcare, the burdens of a home, etc. In the years prior to accepted remote working, face time at an investment bank for junior folks could be just as important as output and capability, meaning work time was not always productive time and can manifest itself as guilt time for anyone with external responsibilities.
Having team colleagues or a manager who understands those challenges can mean the difference between a supportive working environment and one that threatens active collaboration and inclusiveness.
3. What are some key steps companies could take to make investment banking more attractive to women?
Some investment banking roles involve project-based tasks governed by deadlines that cannot be controlled by the bank. Sustaining these kinds of roles are more difficult for anyone with external commitments and responsibilities and new hires should be aware of this at the start.
But situations can change for employees. A transitioning policy out of these kinds of roles into other roles, either within the bank or exterior to the bank within financial services, either temporarily or permanently, requires active management, regular communication, and keen responsiveness without judgement. The fear of judgement, of skill loss, of being sidelined indefinitely, etc. can often lead second breadwinners, especially, to leave investment banking altogether.
Some investment banks have return-to-work programmes, but many of these are seeking to capture expertise in the market at a competitive rate and do not represent a bridging policy to retain loyalty, in my view.
Investment banks that provide a deep bench of active, approachable, well-informed diverse role models, whether still working at the bank or engaged external to the bank through an alumni network, can help others navigate their careers. This is the bridge that many need to remain self-motivated, resilient, and engaged.
4. What do women bring to deal making that is different to men?
The benefits of diversity have been well-documented. Diversity offers a variety of different perspectives, leading to higher innovation and increased creativity. Diversity allows for sounder decision-making, and it is well documented that gender diversity has related to better risk control. Corollaries to these factors are well-considered contracts, potential differentiated transaction solutions, and improved client relations.
Diversity also provides better company reputations. Some of this may originate from the fact that gender-diverse companies are 25% more likely to have above-average financial returns. A gold-standard reputation can help land an opportunity, drive reverse inquiries, and accrue other benefits to the franchise and its stakeholders.
5. What would you like to see change in our industry for women in the coming years?
Acknowledging the benefits of diversity would help nurture diversity and thereby inclusion. Everyone in the room needs to recognise a presence of homogeneity and there needs to be a collective decision to migrate away from the current state of play.
It then becomes everyone's responsibility to lend a hand to the wheel and help maintain a sense of inclusion for everyone. That might come from representing and recruiting or mentoring and supporting. Overall, there should be a recognition of the frailness of diversity and its dynamism, as employees face different challenges outside the office at different times in their lives. Gender diversity, for instance, can be undermined by a greater amount of unpaid work that employees take on for lots of different reasons, leading to resignations and career moves to outside finance. The industry can do a better job of anticipating these kinds of pressures and outcomes, with a view to providing a supportive platform for everyone.
---
To speak with Kelley Myers, feel free to send her an email:
More About Kelley
Kelley Myers is a Principal with Eaton Square. She is based in Sydney, having relocated from London, United Kingdom in 2021. Kelley worked with Joseph Dryer, also a principal with Eaton Square in London; they were colleagues at RiverRock Securities, London where she was part of the Advisory & Capital Markets team from 2018 dedicated to SME growth capital financing. Industries served included Diversified Financials, Capital Goods, Transportation, Energy, and Food & Beverage.
In the five years prior to RiverRock, Kelley worked for boutique corporate advisory and capital market firms based in London with roles in spanning research, risk, and structuring, focused on corporate debt including high yield bonds, convertible bonds, hedge strategies, and bank debt.
Prior to pivoting to broader debt finance, Kelley was at Morgan Stanley, London for 12 years and a convertible bond specialist, covering EMEA and APAC markets. Over her Morgan Stanley career she was a trading desk analyst and a publishing analyst in Equity Research and in Fixed Income Strategy.
Kelley holds a BA from Mount Holyoke College (MA, USA) and a MSc from University of Colorado (USA).