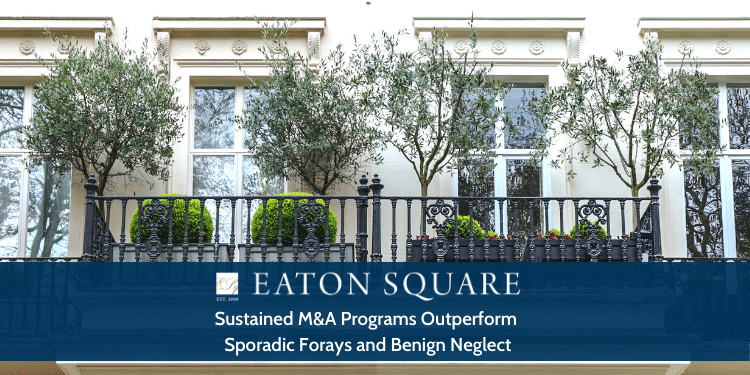 Posted on 1月 20, 2020 by
尼尔·伯恩
在 !trpst#/trp-gettext>
With the start of the new year, we often get asked what Merger and Acquisitions strategy is the most effective.
Do buyers do best by being opportunistic and looking for bargains? Or is it better to find "strategic" transformational transactions to "change the game"?

As a cross-border firm, we found that the most effective transactions are executed by buyers with a clear vision of how acquisitions will help shape the company's growth. Typically, these buyers have developed well-defined selection criteria, transparent approval processes and support from senior executive champions. We often see that the most effective buyers are those that make progressive, additive acquisitions over time. They explicitly build capability and reach by running a continual program of transactions with a bias for achieving impact across multiple transactions.
Why programmatic approach to M&A yields longer-term success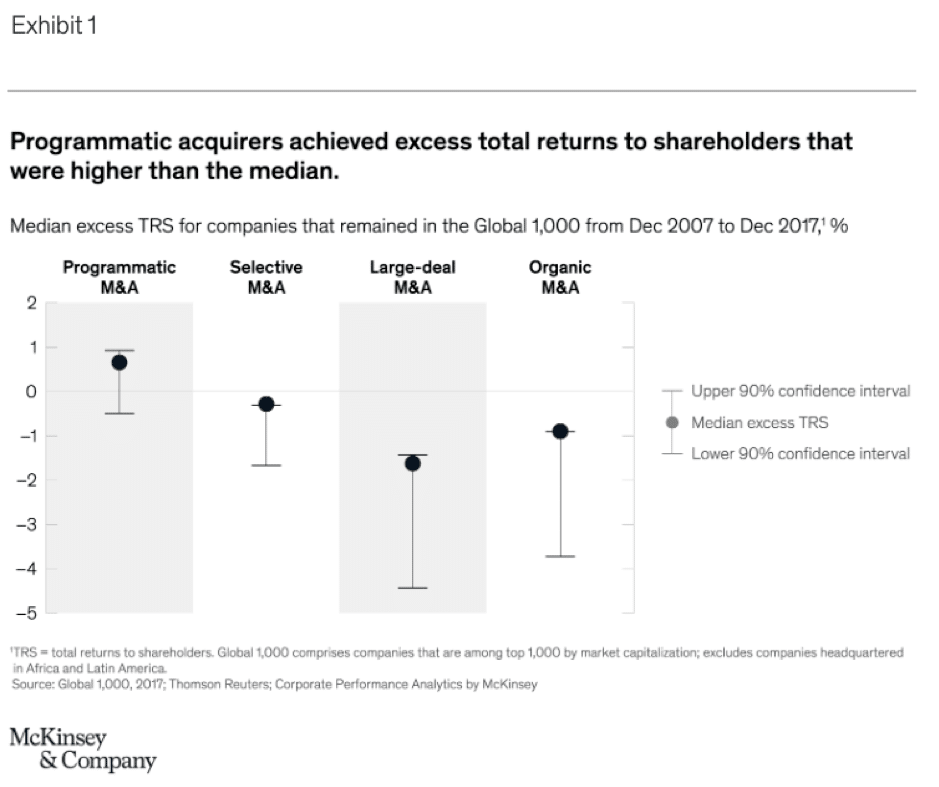 Research conducted by Mckinsey & Co between 1999 and 2010 confirmed the view. McKinsey found that companies that invest in building the capabilities to sustain a multi-year program of many smaller deals deliver more reliable increases in shareholder value when compared to businesses that either focus exclusively on large 'transformational' opportunities or those that engage in M&A episodically and infrequently.
From an Eaton Square perspective, when acting as both buy-side and sell-side advisors, we find programmatic M&A buyers typically do better deals. They are usually more successful in a competitive sales process because they are confident about valuations and the benefits they are seeking from the transaction, which means they buy better companies and derive more value from their purchases; they are efficient in their due diligence and documentation process which supports a smooth transaction; they have well understood internal decision and approval processes which is important to get a deal done.
Our experience has been that once a programmatic M&A buyer confirms that a given deal meets their criteria, then transaction completion probability is very high.
Clear strategic direction

Programmatic M&A buyers also instil confidence in the sellers because they are able to point to their strategic direction and to other deals. This confidence is especially important if the deals include a deferred or earn-out component on the deal. Similarly, sellers can become worried about selling to companies that don't have a coherent strategy and integration approach while being asked to 'trust us'.

Well-formed views on valuation multiples

Interestingly, our experience is that programmatic M&A buyers enter sales processes but seek to shorten the process by bidding high and early in the process. As one M&A executive from one of the best "M&A Buyers" commented to me "we find it so hard to find good M&A targets, so when we find something we can get approval for internally, we want to buy it, not come second". Programmatic M&A buyers know their market and have well-formed views on valuation multiples and deal structures.

Efficient due diligence and integration process

Our experience also tells us that sellers that are well-prepared for the M&A process typically fair better in terms of final outcomes. Programmatic buyers come down hard when discrepancies arise in due diligence, which can cause deals falling over or downwards adjustments in valuation.
If you are a business owner and would like to discuss your options for preparing your business for exit, then feel free to contact me or one of my Eaton Square colleagues for a confidential discussion.
---

里斯 · 亚当斯
Global Managing Principal
Reece Adnams is the CEO and Global Managing Principal of Eaton Square, a Mergers and Acquisitions and Capital Services firm founded in 2008. His industry expertise incorporates IT Services, Engineering, Management Consultancies, Software and Technology and HR Services.
E: [email protected]
P: +61 0400 360 439