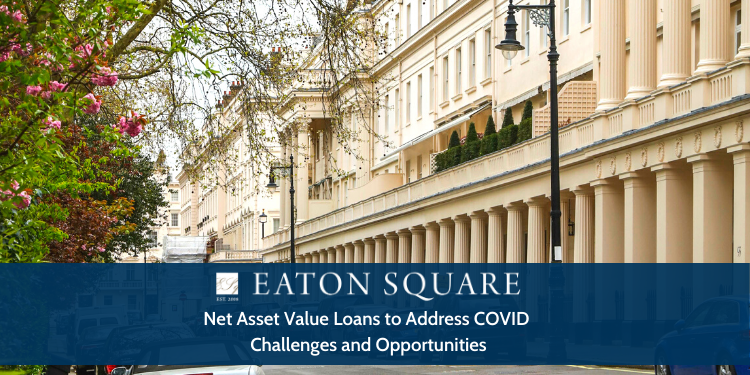 Posted on 5月 13, 2020 by
里斯 · 亚当斯
在 !trpst#/trp-gettext>
We are currently receiving many inquiries from Sponsors seeking funding to support their firm's balance sheet, portfolio companies or to take advantage of opportunities in the market driven by COVID-19.
One potential solution that may be appropriate is net asset value ("NAV") loans from US debt providers.

What are Net Asset Value (NAV) Loans?
NAV loans provide capital to portfolio companies by relying on the value of the Sponsor's performing portfolio collateral.
NAV loans differ from traditional subscription facilities (capital call lines) in that they do not rely on uncalled capital; alternatively, NAV loans look to the value of the fund's portfolio and provide companies that have equity-like needs with access to non-dilutive capital at a debt-like cost.
NAV structures are particularly useful for funds that are near, or past, the end of their investment period.
NAV loans are also helpful to take advantage of "opportunistic" deals that have recently emerged.
NAV loans can accommodate a diverse variety of circumstances, and accordingly, are highly-negotiated.
How are NAV Loans structured?
Typically, NAV Loans are structured in the following manner:
The borrower is either the Opco, Holdco, or Fund and the NAV loan is guaranteed by the Fund.
NAV loans can be 10% – 30% of the value of the fund's eligible assets, which are generally limited by concentration limits and diversity requirements. Valuations are conducted by the Sponsor on a quarterly basis.
Coupons of ~ 8-12%, payable in a combination of cash and PIK interest (can be all PIK).
No stated amortization. Maturities up to 5 years.
Prepayment penalties in the first 12-18 months.
No financial covenants at the portfolio company level, but negative covenants that can include limits on additional fund-level guarantees, debt, and the sale of assets outside the ordinary course of business.
You can download the NAV Summary here.
*Securities offered through SPP Capital Partners, LLC: 550 5th Ave., 12th Floor, New York, NY 10036. Member FINRA/SIPC.
If you have a current or prospective liquidity need and would like to discuss the concept of NAV loans further, please reach out at any time.
---

斯蒂芬·谢弗(Stefan Shaffer)
执行合伙人兼负责人
Stefan在私人市场拥有30多年的经验,包括在北美,亚洲和欧洲的数百笔交易。在成为SPP Capital的负责人之前,Stefan曾是Bankers Trust Company私人配售小组的副总裁,负责国内和国际资本市场集团私人配售的发起,结构设计和定价。
[email protected]
[email protected]
电话: +61 412 778 807