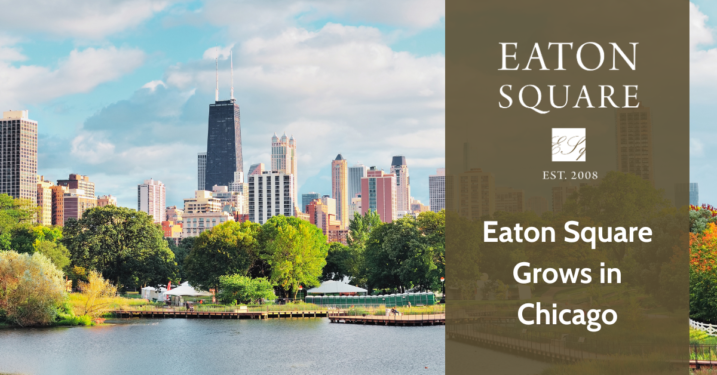 Eaton Square is pleased to announce our continued growth in the United States with the addition of Prairie Capital Advisors, Inc. ("Prairie") in Chicago.
Prairie is a leading investment banking firm specializing in ownership transition strategies for middle market companies and provides M&A, ESOP, and valuation advisory services to clients nationwide. With over 750 closed transactions, Prairie brings sound advice and focused strategies to help their clients monetize or grow their businesses. For more than 25 years, business owners, investors, trustees, and boards of directors have placed their trust in us to guide their strategic decisions and optimize the appropriate path forward.
Prairie's M&A advisory services are primarily focused on the industrial products and services, business services, consumer products & retail, and food & beverage industries. Prairie's ESOP advisory and valuation practices have diverse experience with a range of industries and company sizes.
"Prairie Capital Advisors is excited to join the Eaton Square team! This partnership will enable Prairie to combine our expertise with that of Eaton Square's global M&A advisory professionals to better serve our clients," Timothy Witt, Prairie Capital Advisors Managing Director.

"I am delighted to welcome the Prairie team to Eaton Square. Prairie has invaluable client experience especially in the industrial, consumer and food & beverage, , sectors which nicely complements our existing key areas of focus. Prairie's presence in the mid-west will also allow us to link clients from across the US and around the world to this significant commercial centre," – Reece Adnams, Eaton Square CEO.
With this alignment, Eaton Square has grown to 165 senior M&A specialists across the globe with 20 offices in the US, Canada, Australia, New Zealand, UK, Spain, Japan and Malaysia. This is an important milestone for Eaton Square as we continue to grow our team and further reinforce our cross-border capabilities especially in the US.
Prairie's senior management team joining Eaton Square are:
Dan DeLap

Dan DeLap specializes in advising middle-market companies on mergers and acquisitions (M&A), capital formation and other investment banking transactions. Dan's expertise includes involvement in every aspect of an M&A transaction from developing deal strategy to navigating his clients through all phases of the process to reach their unique objectives. He has worked with businesses in a wide variety of industries and has participated in numerous successfully closed transactions representing over $700 million in aggregate value. Dan has also written extensively about the food and beverage industry.
Anthony Dolan joined Prairie Capital Advisors in 2005 and is a shareholder in the firm. He has significant experience advising middle-market companies and shareholders on mergers and acquisitions (M&A), capital raising, leveraged Employee Stock Ownership Plans (ESOPs) and strategic advisory engagements. Anthony's expertise includes involvement in all aspects of the M&A process including relationship management, developing deal strategy as well as strategic and tactical decisions. His unique ESOP and M&A expertise allows him to address concerns critical in a successful third party sale process of ESOP-owned companies.
Anthony frequently presents at industry conferences and webinars, including those presented by The ESOP Association and the National Center for Employee Ownership, on topics including ownership transition planning, preparing companies for sale, ESOP transactions, debt financing and valuation. He has also authored a number of articles on these subjects.  Anthony was a recipient of the 8th Annual Emerging Leaders Award of 2017 presented by The M&A Advisor.
Timothy Witt joined Prairie Capital Advisors in 2007 and is a shareholder in the firm. He leads the mergers and acquisition ("M&A") team at Prairie and specializes in originating and executing M&A and capital raise engagements. As a trusted advisor, Tim works to navigate Prairie's clients through the ownership transition process. Once he understands their unique situations and personal and business goals, he designs strategies that deliver the best possible outcomes for Prairie's clients. From managing the preparation process to structuring, negotiating and completing a transaction, Tim directs the M&A and capital raising process from start to finish. He also works closely with companies nationwide to assist them with valuation and consultation across the entire spectrum of ownership transition alternatives.
John Waller joined Prairie Capital Advisors in 2021 with over 30 years of investment banking experience and 25 years advising middle-market companies on the sale and acquisition of entire businesses and business units. At Prairie, John leads and co-leads transaction teams and develops business for the firm. As a trusted advisor to privately-held companies and large corporations, John works to understand a client's business, develop various transaction alternatives and present multiple options to the client. He then navigates clients through ownership transitions, corporate divestitures and special situations. John is deeply involved in all aspects of transactions including managing the preparation process, contacting and meeting with potential acquirers or targets and structuring, negotiating and completing a transaction.
Terrel Bressler joined Prairie Capital Advisors in 2012 and is a shareholder in the firm. He focuses on mergers and acquisitions ("M&A") and capital advisory engagements. In this role, Terry assists middle market business owners in understanding and assessing their strategic business alternatives and then developing and executing transaction solutions to meet the owner's objectives. He works with family, management-owned and private equity-owned businesses and helps these clients address their growth and ownership transition issues, including executing recapitalizations, M&A, company sales and ESOPs.
Terry frequently speaks on and writes about M&A and financing topics. He also authors Prairie's quarterly M&A and financing topics newsletter, the Prairie Middle Market Perspective. Terry was announced as a 2017 Thought Leader of the Year Finalist by the Alliance of Merger & Acquisition Advisors (AM&AA).
If you're interested to speak with our team in Chicago, please contact: