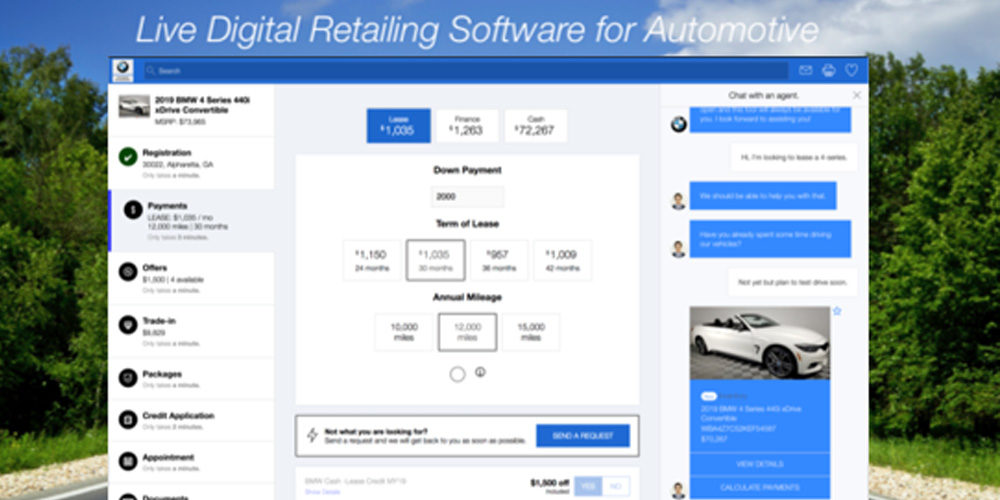 Backed by top-tier US VCs, Project Velocity is the fastest-growing dealership Digital Retail Platform (DRP) in the US Auto industry.
The car buying process is complex and intimidating to most people, yet automotive consumers are visiting fewer and fewer physical stores prior to purchase. It has, therefore, become imperative for dealers to master digital conversations and minimize friction from initial contact to the point of sale.
Project Velocity enables dealers to provide convenient and low-stress 24/7 'white glove' service to customers, answering queries and engaging in content-rich dialogue (e.g. vehicle information and comparisons, trade-ins, financing options, etc.) in real-time via chat and maximising the conversion of conversations into purchases.
Seasoned management team combining Auto sector experience with strong track record of scaling and selling enterprise software businesses
Three major products – Live Messaging, Digital Retailing, Forecourt Retailing – with content library and feeds for vehicle specs, media, inventory, trade-in, rebates, incentives, financing
Social media integration for live chat, e.g. Facebook Messenger, Google My Business, Apple Business Chat in addition to dealer websites
Multi-language – over 100 languages supported
Substantial client base – Nearly 3,000 customer sites; mostly in the U.S., some in Canada; exploring international expansion
USD 13m of capital raised: Tier 1 VCs & auto-industry entrepreneurs
>USD$25M in annualized recurring revenue for year ending December 2018, up from USD$2.5m in 2015
LTV/CAC >3.75 (4 year average); MRR Churn <2%
150 staff (engineering, sales, post-sale dealer engagement)
Raising up to USD 5m, particularly from investors able to assist or provide insight on automotive markets outside of US
Target Market
>USD 1.4B market opportunity in the US alone
Market size estimated on basis of sale of full Velocity product range to all 36,000 major US Dealer 'Rooftops', comprising:
17,000 Franchise (new vehicles)
15,000 larger independents (used vehicles)
4,000 Powersport dealers (RVs, motorcycles, snowmobiles, motorboats etc)
Competitive Landscape
Velocity provides and integrates a broad range of chat and digital retailing capabilities to enable a smooth end-to end experience:
Messaging – more limited content and vehicle comparison tools, e.g. ActivEngage, ContactAtOnce. Commodity price-based competitors
Digital retailing – Velocity, AutoFi, DriveMotors & Roadster position as 'independent' DRP's.  DealerInspire offers similar functionality but only to customers of its website tool.
Since entering, Velocity has grown rapidly and become the largest Messaging and DRP provider by number of Rooftops (customer sites), with significant customer capture from competitors.
Investment Highlights
Rapid Growth; now the leading automotive Messaging and DRP player in the US by Rooftop acquisition (>2700 dealers in 48 months, 50% growth in last 12 months)
Seasoned management team, with deep expertise in Auto industry and scaling enterprise software businesses
Disciplined and Capital efficient growth strategy
Extensive growth potential in US market with global potential
Backed by top-tier VCs
Financial Summary

Equity investment of up to USD 5m
Post-money valuation last round Jan 2018 USD$84m
Series Preferred Security (pari passu with prior investors)