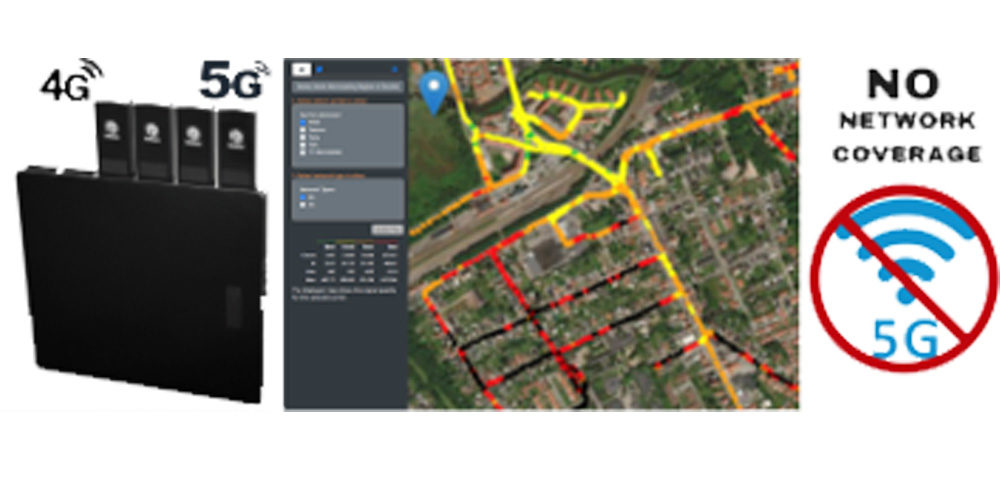 Ever been frustrated by signal drop-out or by coverage blackspots on your mobile network? You're not alone. Every mobile network operator requires accurate, up-to-date data about radio frequency (RF) network coverage & quality at as many locations as possible. Not only is this critical for network design, operation & maintenance, but operator sales and marketing groups also want benchmark data on competitive networks for targeted sales campaigns and preventing customer churn. So why do operators struggle with this data today, why is coverage patchy, and why will 5G make things worse?
RF network testing today is conducted by small teams driving or carrying arrays of consumer handsets, high-end laptops and lots of batteries. Data-analysis is conducted back at base. The tools are complex, unreliable and require skilled technicians and so, testing is expensive. Hence it's done infrequently with a heavy reliance on sampling and interpolation. The result is incomplete, inaccurate and out-of-date data – a persistent problem for all operators globally. 5G will require a huge number of new antennas, and a corresponding increase in RF testing – a problem that current testing tools cannot solve.
Introducing  Project Hydra:
7 years of development, products in-use with tier 1 operators
Light-weight, zero-touch hardware plus cloud analytics – no skilled labour involved
The most advanced end-to-end solution for accurate and cost effective testing and analysing complex cellular networks in the market
Existing customers include tier 1 operators in Australia and Europe; distribution partners established in EU, US & Asia
Extensive trials confirmed with large postal operators to collect comprehensive data at every delivery address (data hereto impossible to gather)
High margin, annuity business model: hardware + software as-a-service; generating massive data sets opening multiple new revenue opportunities
Management
Four founders with extensive, senior industry backgrounds in commercial, sales and technical roles with tier 1 vendors and telecommunications operators.
Market Opportunity
Potential customers for continuous 'saturation' testing solutions and resultant data include:
Every mobile operator and Telco regulator implementing 4G, 5G and IOT
Network vendors and systems integrators
Commercial users of location-specific consumer behaviour data
Path to Market
Indirect sales model via network integrators with deep existing relationships with global mobile network operators.
Partnering with postal operators in ANZ and Europe to utilise postage delivery assets to collect street level data for sale to operators, network regulators and other customers.

Summary Financials (years 1 -3 from investment)

Investment Highlights
Global market opportunity, high-margin annuity revenues and  a scalable, low-cost business model
Introduction of 5G necessitates testing that is neither technically nor commercially feasible with solutions offered by the two long-standing dominant vendors
Disruptive technology advantage with combination of proprietary hardware and cloud based data analytics
Location
Sydney, Australia
Investment
Seeking US$5m Series-B funding