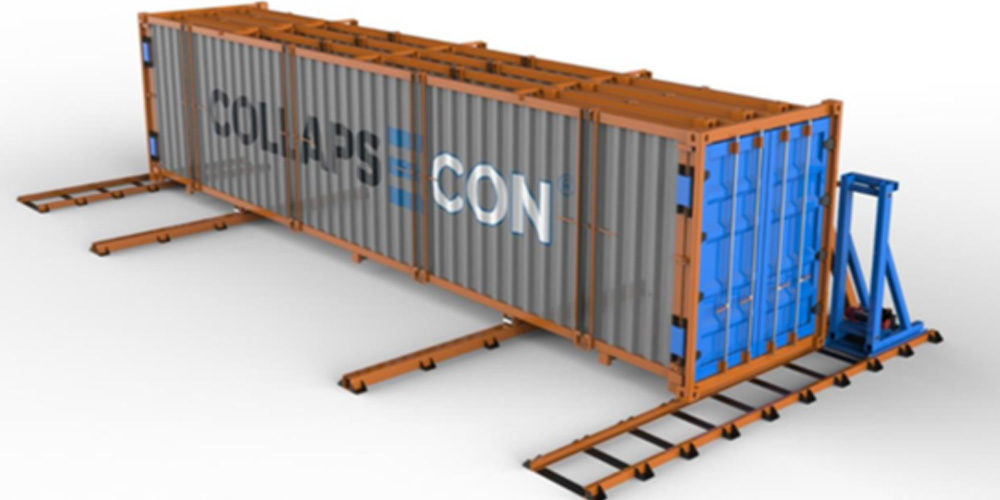 The United Nations estimates that moving and repositioning empty containers costs the global shipping industry over USD $30 Bn per annum, or around 19% of industry revenues.
Previous attempts to reduce costs through the use of collapsible container systems have failed to secure industry adoption as the designs did not enable operators to cost-effectively integrate these solutions into standard transport, storage and handling systems.
Folding Box has engineered a simple, efficient, affordable and safe ("SEAS") solution that enables a collapsed stack of four folded containers to be readily transported, handled and stored as a single standard container.
Simple – easily manufactured, only requires minimal physical manipulation
Efficient – easy to operate (semi-automated); only 2-5 minutes per container vs. 20-30 minutes for competitors
Affordable – <1.5X cost of standard 40 ft containers; offers a compelling ROI for routes with trade imbalances
Safe – optimised folding mechanism with full 'stand-back' port-side operation by a single operator
The collapsed and combined stack is strong and stable enough to be loaded in the lowest tiers of a vessel for more efficient handling.
Folding Box's prototype system has been fully trialled in expanded and collapsed states and the  production design is ready for final CSC and ISO certification and demonstration trials.  Manufacturing facilities are ready to support high volume production and the company is talking to regional shipping lines to secure early orders.
Folding Box is now seeking investment of AUD$5M for final product refinement, manufacturing and marketing.
Target Market
The global container fleet is approximately 38M TEU (Twenty-foot Equivalent Units) of which 40 ft units are around 60%, owned roughly 50/50 between Shipping Lines and Container Lessors.
The global market for shipping containers is estimated to reach value of US$11.5Bn by 2021.
Approximately 4-5M containers are manufactured annually.
Folding Box plans to drives sales to 17,000 units by 2022 and 120,000 units in 10 years (representing 2.4% of annual global container production).
Go To Market Strategy
Initially targeting regional shipping lines and logistics providers to smooth production ramp-up (potential orders in low hundreds)
Investor Highlights
Large and important global market opportunity
Experienced management team and Board with deep global logistics and financing expertise
Industry demand for solutions validated by willingness to enter trials with Folding Box's competitors
Folding Box has systemically overcome the design limitations that stymied the adoption of competitive systems
Patented technology and protected designs (regulated by the Bureau of International Containers and the WTO)
Capital efficient; <$1m external capital raised prior to this round. Additional support from grants and R&D subsidies
Strong government support from Australia and Singapore
Focused go-to-market strategy that concentrates initially on securing orders from smaller private, regional shipping lines
First pre-orders anticipated by end of 2018
Financial Highlights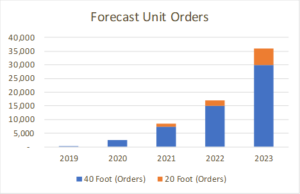 Sale / Investment Method
Investment of AUD$5M sought (12% of which has already been secured).  Details available under NDA.