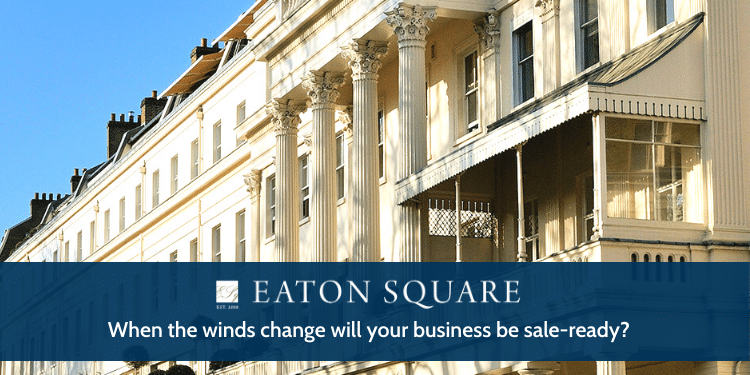 Posted on 6月 16, 2020 by
尼尔·伯恩
在 !trpst#/trp-gettext>
Uncertain times lie ahead in the global economy and many business owners are re-evaluating their exit plans and timelines.
At Eaton Square, one of the first things we do when we start preparing a business for sale is to dig into the Company's growth plans — simply put, growing businesses or businesses with the potential for strong growth attract more buyers and sell for better prices.
For many companies in the mid-market who have been around for a while, scratch the surface of their growth strategy and you will find an annual budget aiming to incrementally improve upon the last year. In small organisations, nobody has the time to pull together the data and do the necessary legwork to create a plan that will stand up to external scrutiny. It is difficult to do; it requires effort and the business always has more pressing requirements.
The world is full of free advice about things that you should, but probably won't do and for many business owners 'get yourself a robust growth strategy' can easily slide into the bucket of things to get around to when we are not so busy.
Why prepare your business to be sale-ready?
So think of this as a nudge to action, by highlighting some of the immediate benefits of doing this work early.
Be better informed. Part of being better informed when you are thinking about selling your business is understanding how outside buyers or investors will view your business and its growth prospects. Selling a business you have put your heart and soul into is often an emotionally charged affair so, unsurprisingly, many potential sellers frame their views on value based on sunk costs, past sacrifices or simply the amount of capital necessary to re-invent themselves if they are no longer running their business. However, conversely, outside parties are more focused on the potential for the business to produce a return on investment.
Greater focus. Business performance is the cumulative effect of actions and decisions taken throughout an organisation. The very process of creating a shared view of top growth initiatives (substantiated with evidence of momentum) brings immediate benefits in aligning priorities and trade-offs.
Be better prepared. Embracing an 'outside-in view' of the business before going out to market gives current owners the opportunity to fix some things that would otherwise be used to negotiate the value downwards. Developing a growth strategy is one step, embedding the strategy and developing momentum to the point where outsiders can see that the growth initiatives have substance, requires time — so better to go hard and early on this work.
If you would like a confidential discussion about your plans to your business now, or better prepare your organisation for a future sale, please contact one of the Eaton Square team. You can book a call here.
---

彼得·霍尔
Principal, Sydney
Peter has thirty years of management and consulting experience in a wide range of industries across many countries, particularly in the Asia-Pacific region. He has served as C level executive, company director, venture advisor and investor in Australia and the USA.