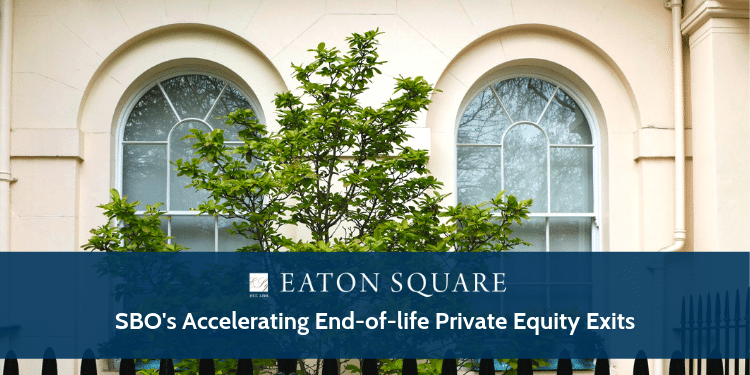 Posted on 9月 2, 2019 by
尼尔·伯恩
在 !trpst#/trp-gettext>
Secondary Buyouts: Key opportunity for realising assets in end-of-life Private Equity portfolios
Private Equity funds whose vintage is more than ten years old are often faced with the challenge of realising value in end-of-life assets.
Fund managers with end-of-life assets have several options, including
Extend the life of the fund:  most funds with the agreement of their Limited Partners can seek 1-2 year extensions of the fund life.  Providing time to run an orderly sale process for the remaining assets.
Secondary Sale of Fund to a Secondary Private Equity fund:  Secondary Private Equity Funds specialist in buying the stakes of Limited Partners seeking to exit early from their private equity investments. Secondary funds will also buy end-of-life portfolios.
Distribution in specie: Transferring the shares in the end-of-life business to the Limited Partners
Secondary Buyout (SBO): Sale of a Private Equity Asset to another Private Equity manager.
Of these options, Secondary Buyouts (SBOs)  have become an increasingly popular means of exiting with over 50% of all exits now being on-sale to other private equity funds.   The on-going influx of money into private equity along with the concurrent increase in the size of the largest private equity funds means that this exit path is unlikely to go away any time soon.
As an active participant in mid-market transactions,  Eaton Square is frequently approached by large Private Equity funds looking for access to new investment opportunities and most are keen to look at the end-of-life assets of other funds.
Secondary buyouts can be very appealing to other Private Equity managers,  due diligence is typically easier as good governance practices and strong reporting disciplines are already in place.   Secondary buyouts also typically offer a different risk/return profile to primary investments which can be helpful in optimising portfolio performance.
If you have an end-of-life asset and would like to discuss your options, please contact us at Eaton Square for a confidential discussion.