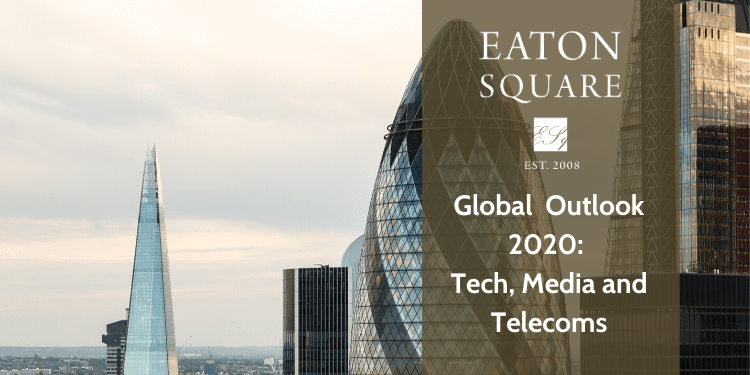 Posted on 11月 14, 2019 by
里斯 · 亚当斯
在 !trpst#/trp-gettext>
With the end of 2019 on the horizon, we thought it appropriate to look towards 2020 and share some of the trends that we see emerging in the M&A market. Over the next weeks, we will share our views on our core markets, technology, media and telecommunications; engineering services; life sciences; and Asia.
The first sector we would like to discuss is Technology, Media and Telecommunications.
Lessons and Outlook in Tech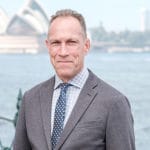 尼尔·伯恩
总监
悉尼
The mainstreaming of the Digital Transformation trend continues to drive acquisition demand for technology services businesses and digital transformation platforms. We are seeing prices for digital transformation skill sets at the upper end of historic multiple ranges, especially for businesses that have hard-to-source skills sets. Key skills that are in demand include those associated major enterprise SaaS platforms such as Salesforce, Workday and ServiceNow, plus strong demand for skills across the spectrum in Cybersecurity.
The market for cybersecurity solutions and services continues to grow with no abatement. Especially in toolsets that integrate with most mainstream solutions and the latest digital platforms. Demand for skillsets in this sector is especially strong.

The growth of Private Equity in the IT Services sector is also pushing up the process and giving sellers an option beyond just strategic buyers. Some sellers are attracted to working with Private Equity as it enables them a 'second exit' which is relatively new to the services sector.
Fearless Forecast for 2020
The availability of low-interest debt is expected to sustain the market for acquisitions as it remains cost-effective to purchase growth in addition to pursuing organic strategies.
PE Funds will continue to bulk up portfolio companies with bolt-on acquisition to accelerate growth and leverage the buy/sell arbitrage from buying sub-scale business and selling market share leading platforms

We see a decline in funding for 'Field of Dream' strategies that rely on spending big to capture market share outside the US and minor players struggle to gain sufficient scale to dominate globally.
---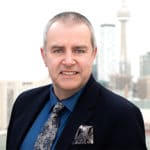 安德鲁•莱特
总监
加拿大
Consolidation is likely to continue where technology provides a distinct competitive advantage to the larger players. Sectors such as financial services and banking in North America are key.
Fearless Forecast for 2020
Developed regions and jurisdictions such as the UK, Canada and Australia have seen their currencies lower to represent good value for a variety of local political and economic reasons. 2020 is a good time for value-based cross-border acquisitions, especially for leading technology expertise.
Mobile commerce has yet to hit North America in the way Asia and many parts of Europe have adopted, especially in terms of cashless/cardless transactions. We expect many acquisitive plays to help a variety of players leapfrog the time needed for organic growth; think large tech, telco, digital retailers and more!
The onset of 5G Networking is a game-changer. It will allow for applications previously unfathomable due to latency and reliability issues. We expect to see determined M&A activity as enterprises seek to gain early-mover advantage in their chosen fields.
---
Matt Pritchard
总监
香港
During 2019 we saw a significant shift in technology investing and the geopolitical landscape. Some takeaways in looking back over 2019 are:
Huge upswing in engineering subcontract organizations. They are now very niche-oriented towards specific disciplines of talent vs centralized in a low-cost region such as India. In software, for instance, they are more interested in Programmable logic or ASIC development vs the previous push for simple web designers. RF, OPTICS, POWER etc. are all other discipline-specific groups that have had a surge of acquisition.
Multiples on tech plays seem to differ from strategic investors vs straight financial investors. Strategic investors seem to perceive a multiple 30% higher as valid. While this is not necessarily new its worth being aware of.
All hardware companies become software companies ultimately; this is not a new concept but with the advances of Internet of Things (I0T) and Artificial Intelligence (AI) as a front end for everything electric, it seems to be an accelerating trend.
Fearless Forecast for 2020
Telecom Original Equipment Manufacturers (OEM) will once again thrive as revenue will flow to the inventor vs the channel. There as been a void in telecom R&D efforts due to low margins and with the IoT demand it will push need over cost.
Regardless of what General Motors and the Media are telling you, there is a significant part of key automotive companies, software companies and computer companies all investing in smart cars, autonomous driving, sensor tech, EV tech etc. Volkswagen and Ford are trying to lead the investment bandwagon. Most automotive companies have stopped R&D investment in combustion engines. This investment and lack of investment will show itself more and more as the year goes on.
IoT will have a five year + reign on consumer electronics, if it's electric it can be controlled and interconnected through a local area network.
Food Tech is only just beginning. With just over a billion capital raising over the past 18 months and there are only four significant sized players in the market. As the product has now moved to the fast food industry this trend will continue due to the rapid expansion of the market. Major R&D investment such as Independent Chemists, labs and such will dominate this acquisition space
Fabless, R&D less and office-less virtual companies are becoming the norm. Ideas can be brought to market with a very small indirect cost but considerable direct costs. With the onset of WEWORK and other co-working environments, firms are hiring based on talent/cost vs geography. This will have a positive effect on mid-market cities.
The new dinosaurs in 2020 and beyond are a number of tech/business tools and products which will disappear. For instance, the office telecom system (Pollycom, Cisco etc. will hurt), cubical farms and large office footprint will diminish (hurting the Herman Miller type companies), physical cash and cash management infrastructure will go away with EPS and, tap and go plus Cryptocurrencies (hurting firms like NCR, IBM, Brinks etc.), and remote controls and such will disappear as your phone will become a master remote control for everything tech in the home.
Summary
Despite the economic challenges, our team at Eaton Square is positive that mid-market mergers and acquisitions in Tech will continue to be an important source of innovation and growth in 2020. With the onset of 5G and the speed of advancements in AI and IoT, we see 2020 as a good time for value-based cross border acquisitions.
Do you agree with these predictions? Have you planned out your 2020 strategies yet? If you would like to talk about your growth strategies for your IT firm, feel free to contact our global team.