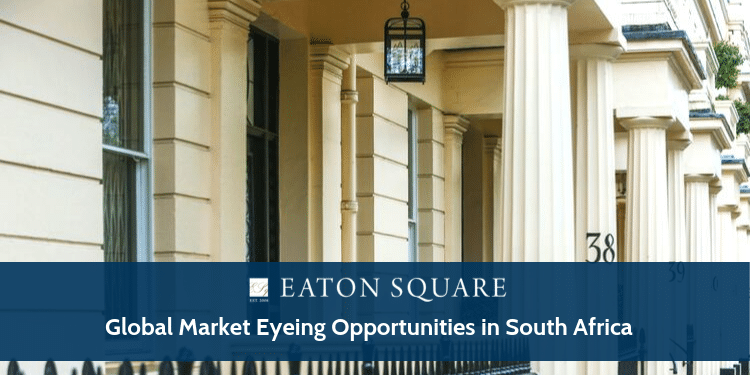 Posted on 9月 30, 2019 by
卡尔·舒特
在 !trpst#/trp-gettext>
Despite global economic headwinds, multinationals still view Africa as the next big market. South Africa remains the preferred investment destination in and of itself and also as a gateway into Africa due to its extensive investment and business ties into the continent.
The current South African economic outlook is negative with the latest South African Reserve Bank Quarterly Bulletin showing the economy in its 70th month of a downward cycle and business confidence at a 3 decade low. The latest pronouncement by Arcelor Mittal reviewing the closure of some of its operations due to "cheap imports, rising costs and a flagging local economy", confirm the current low business confidence.

Globally, however, many multinationals are seeking to strategically position themselves for any uptick in growth that will eventually come from the growth in the middle class in South Africa and the rest of Africa and are prepared to invest in South African companies that give them that "gateway" into Africa.
FDI in 2018 in South Africa was largely invested in mining, petroleum refinery, food processing, information and communications technologies, and renewable energy, and the expectations is that this trend will continue with China committing to ZAR193 billion in new investments in the country with a significant Chinese investment in the recently-opened US$840 million (ZAR11 billion) BAIC vehicle plant at the Coega harbour. In addition to the Chinese interest in South Africa, American interest has significantly picked up as investment opportunities in China are seen as difficult against the backdrop of the USA China trade war.
Eaton Square is cross border M&A advisory firm with over 50 Principals across 9 countries including US, Canada, China & Hong Kong, Australia, New Zealand, UK, Switzerland, Singapore and Israel. If you are seeking to explore strategic capital events (exits or Investments) for your company Eaton Square can assist you to maximise your reach through our extensive global network and deep capital markets and M&A experience.
For a confidential discussion please contact:
---

里斯 · 亚当斯
Global Managing Principal
Reece is the Managing Principal of Eaton Square and is focused on M&A and capital services. His industry expertise incorporates IT Services, Engineering, Management Consultancies, Software and Technology and HR Services. With over 20 years of corporate strategy and mergers and acquisitions experience working in both global corporations and small and medium-sized services businesses, Reece's depth of knowledge is invaluable in assisting clients to navigate the complexities of M&A transactions.
[email protected]
Ph: +61 03 8199 7911